Mexico City Residents Told to Stay Indoors as Pollution Worsens
(Bloomberg) -- Mexico City's air quality sharply worsened this week, prompting warnings for residents to stay indoors, while cyclists and pedestrians covered their faces with surgical masks and scarves in a bid to protect their lungs.
The Mexican capital, which ranks among the world's largest cities, has long been infamous for pollution -- much of it generated by the city's legendary traffic. The situation is being exacerbated by high temperatures and a lack of rain, which has sparked multiple forest fires around the city's valley.
On Tuesday, the government's air quality index reached 158 points in the populous municipality of Ciudad Nezahualcoyotl, just east of the capital, indicating "very poor" conditions and "very high" health risks. Local officials warned residents to refrain from strenuous outdoor exercise and recommended workers to stay home and keep their windows closed.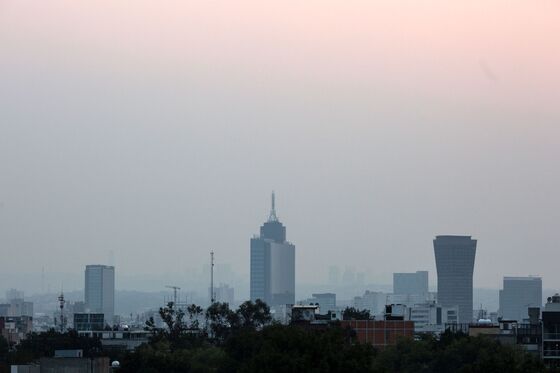 "You can't escape it," said a tour bus operator, who spoke next to the city's emblematic Angel de la Independencia monument. Speaking from behind reflective sunglasses, Daniel, who asked his last name not be used, said that he felt the difference in his lungs. "This has been going on since Friday, and you really started to see heavy smoke on Saturday. There's just no way to get away from it."
The city has a long-standing policy that restricts the number of cars on the road when air-quality indicators hit certain levels. The policy has been credited with improving air quality in recent decades, but it doesn't measure the contaminants caused by external factors such as forest fires, Mayor Claudia Sheinbaum said in an interview with El Financiero Bloomberg TV.
As a result, the current pollution levels haven't triggered any vehicle restrictions, despite the blanket of smog that settled over Mexico City. Sheinbaum said her government is looking at updating the capital's protocols to help address the discrepancy.
"There's so much traffic, they have to do something," said Irma Reyes, a grandmother waiting for a bus with her grandchildren. Reyes said that it was harder on the kids, and that she was hoping they could stay inside.