Currency Pundits Are Losing Faith in the Krona
Currency pundits are losing faith in the krona as global trade tensions further cloud Sweden's already-downcast economic outlook.
Analysts have slashed their krona forecasts more sharply than for any Group-of-10 counterpart this year as the currency heads for a fifth monthly loss against the dollar. The more-than-$500 billion Scandinavian economy is reliant on trade, with exports and imports together accounting for more than 80% of gross domestic product.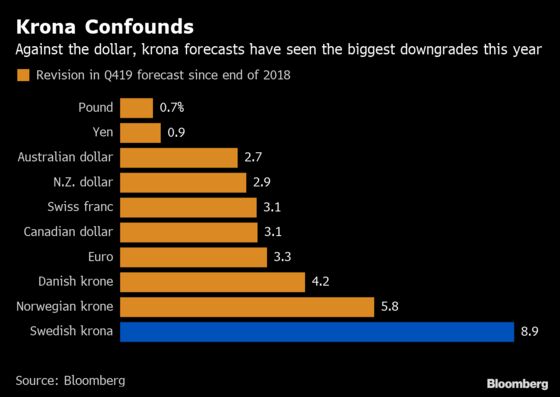 "The relentless sell-off in the krona may indicate loss of confidence in the currency. That is a bit worrying," said Stefan Mellin, a senior analyst at Danske Bank A/S. "The Riksbank's long-held hopes for a non-appreciating, preferably depreciating, krona has played out well. Too well maybe."
The median estimate in a Bloomberg survey for the year-end dollar-krona rate has slumped almost 9% since December, as the spot rate tumbled about 8%. While the krona's weakness can be explained to some extent by the dollar's resurgence, a global trade conflict and the recent dovish tilt in Sweden's monetary-policy outlook, some strategists are concerned.
Riksbank First Deputy Governor Kerstin af Jochnick said last week that it has been "difficult" to explain the exchange-rate slump and policy makers will have to analyze how to improve forecasting the exchange rate.
With the latest data showing an acceleration in Swedish inflation, the currency appreciated against all major peers Tuesday. Manuel Oliveri, a strategist at Credit Agricole SA, was skeptical about how long the advance can last. Domestic data may have limited impact on the currency as global risks remain the main market driver, according to him.
The krona is indeed the worst performing G-10 currency of the year, having weakened to about 9.60 per dollar on Tuesday from 8.8533 at the end of 2018. It slid more than 6% against the euro to around 10.7930. The euro-krona exchange rate has been taking out technical resistance levels and "11.00 is not far away," according to Danske's Mellin.
The latest median projection in the Bloomberg currency survey is for Swedish currency to end this year at 9.01 per dollar and 10.35 against the euro. Strategists at Nordea Bank Abp, already among the more bearish forecasters of the krona, are considering slashing their 10.80 year-end call further.
"The confused Riksbank may be causing investors to stay away from krona assets to some extent," according to Martin Enlund, the chief analyst at Nordea. "If foreign accounts do not understand the Swedish policy mix, they will be prone to not invest in the country."