Credit Card Borrowing Increases and Americans Are Slower to Pay Them Off
(Bloomberg) -- More than half of U.S. consumers in their twenties own a credit card. As that number has increased in recent years, so have delinquency rates.
But, that's not a sign for alarm yet, according to a posting on the Federal Reserve Bank of New York's Liberty Street Economics Blog. The share of borrowers who are 90+ days delinquent on their credit card balances is still below pre-recession levels.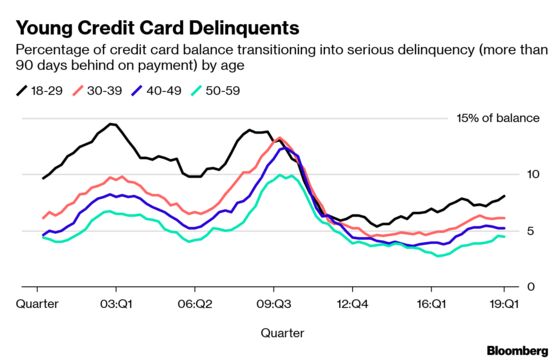 "The rate at which credit card balances become delinquent has been rising, and that has coincided with an increase in younger borrowers entering the credit card market," New York Fed researchers wrote in the post. "However, these delinquency rates are increasing from historically low levels and remain below pre-financial-crisis levels."
The move into serious delinquency rates for credit cards is a fairly new occurrence. It's been rising since only 2017 whereas payments on auto loans that were at least 90 days late have trended upwards since 2012.