Xerox Loses the Crown as Top U.S. Stock of the Year
(Bloomberg) -- Xerox Corp. lost its top stock status after a first-quarter revenue miss sent shares falling on Thursday.
Xerox dropped as much as 6.6 percent after reporting first quarter sales of $2.21 billion, which trailed the lowest analyst estimate. That overshadowed an increased 2019 profit forecast.
The Norwalk, Connecticut-based company had been the best-performing stock in the S&P 500 in 2019, with a gain of 71 percent, as of Wednesday's close. That beat gains from Chipotle Mexican Grill Inc. and beauty-product company Coty Inc., which is now the new leader.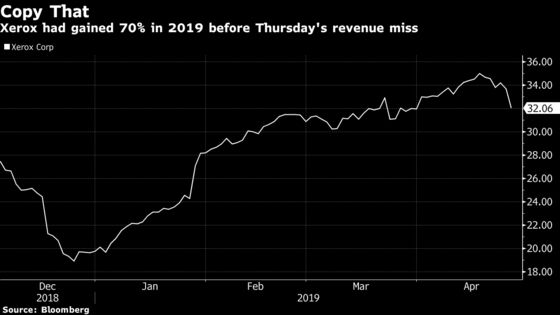 The 113-year-old maker of printers and scanners was an unlikely stock to lead the best starts to a year for the benchmark index since 1975. Its revenue has fallen for five-consecutive quarters. Still, analysts have been encouraged by the company's ability to squeeze more profit out of its shrinking revenue base.