Mattel's CEO Makes More Turnaround Progress as Results Beat
(Bloomberg) -- Mattel Inc. shares surged in late trading after first-quarter revenue beat expectations, with more progress in Chief Executive Officer Ynon Kreiz's efforts to slash costs and boost the toymakers' biggest brands.
Revenue slipped 2.7 percent in the quarter, but analysts had projected the drop to be three times as big. The company also reported a narrower loss per share as it continues to shake off the liquidation of major customer Toys "R" Us Inc.
After about a year on the job, Kreiz is trying to make the case that he's stabilized the toymaker and set it up for a return to growth after five years of revenue declines. The first quarter sets "a solid foundation for the rest of 2019," he said in an interview. The company had already warned in February that sales would be essentially flat this year.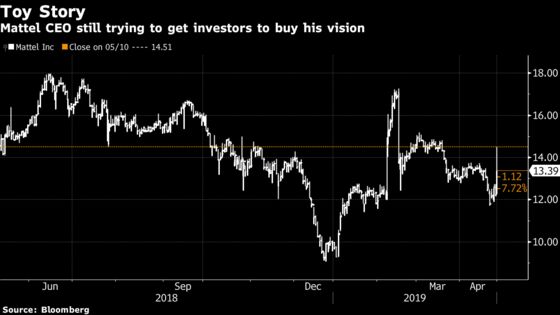 Kreiz, who spent his career in Hollywood before joining Mattel, envisions it as more of an entertainment company. He's selling factories and other assets as part of an announced $650 million cost-cutting initiative that's almost complete. The company is already looking for more expenses to reduce, he said Thursday.
Mattel's North American sales rose 5 percent -- a noteworthy gain because that momentum came without the help of Toys "R" Us.
Barbie and Hot Wheels, Mattel's biggest brands, kept growing in the quarter. But other major properties, including Fisher-Price and American Girl, continued to struggle. Fisher-Price is also dealing with a costly voluntary recall of its Rock 'n Play sleepers.
Mattel shares rose 6.3 percent in after-hours trading.
Get more on the numbers here.