Japan's Mega 'Golden Week' to Cloud View of Sputtering Economy
(Bloomberg) -- A record-long 10-day public holiday to mark Japan's new imperial era starting next week has the ingredients to both fuel and damp the country's sputtering economy.
Unlike in most changes of the monarch, which begin with mourning the death of a sovereign, the Japanese will be in a celebratory mood as the Reiwa era starts May 1, as Emperor Akihito steps down and is replaced by his eldest son, Crown Prince Naruhito.
Starting this weekend, some 25 million domestic tourists are expected to be on the move in Japan, according to travel agency JTB. Special activities offered to celebrate the occasion include wedding packages in which ceremonies span midnight on April 30, and thus both imperial eras, and private charter flights around Mt. Fuji at sunrise.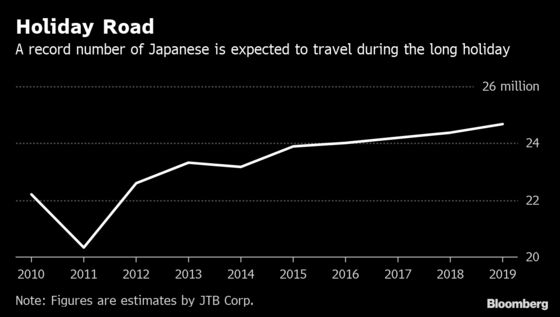 "The economic impact will be huge," said Katsuhiko Miyamoto, a professor at Kansai University who estimated a contribution to the economy of 2.1 trillion yen ($18.8 billion) -- or 0.4 percentage point of gross domestic product.
But not everybody is sure the "Golden Week" holiday will provide a net contribution to the economy. Consider that Toyota Motor Corp., Japan's biggest automaker, will be closed for nine days starting April 27, according to a spokesperson.
Taro Saito, director of economic research at NLI Research Institute, said many factories across the country will come to a complete halt, and that's likely to outweigh the positive effects of consumer spending, even if some manufacturers front-load some output.
Another potential downside of the long holiday is that many of the nation's 22 million part-timer workers will effectively take pay cuts as a result of shorter working hours.
One thing economists do agree on is that the long holiday will make it harder for policy makers to discern the strength of the economy at a critical time, because it will skew production and consumption data. The nationwide sales tax is scheduled to rise to 10 percent in October, yet Koichi Hagiuda, an ally of Prime Minister Shinzo Abe, last week reminded investors that the increase -- twice postponed by Abe already -- isn't inevitable this time if the economy weakens further.
Japan's economy has contracted in two of the four previous quarters, and more than half of economists say they think it did so again in the first quarter, a Bloomberg survey found. That last tax increase hit consumption hard, throwing the economy into reverse.
For now, though, the long holiday will likely drive a surge in consumer spending, said Koya Miyamae, senior economist at SMBC Nikko Securities, adding that household spending tends to rise 18 percent on holidays versus weekdays. But one wild card will be the weather. "If it turns out to be rainy holidays, it would cool the mood for shopping," he said.