Home Sweet Home: Vacancy Rates Fall in Major U.S. Metro Areas
(Bloomberg) -- It's getting harder to find a place to call home. The U.S. Census Bureau reports home ownership vacancies are below 1 percent in more than one-third of the nation's 75 largest metropolitan areas.
Vacancy rates rounded to zero last quarter in Greensboro-High Point, North Carolina; Syracuse, New York; Louisville/Jefferson County, Kentucky; Hartford-West Hartford-East Hartford, Connecticut; Grand Rapids-Wyoming, Michigan and Akron, Ohio.
Elsewhere, a dozen metro areas saw vacancy rates fall by a full percentage point or more from a year earlier. On the other end of the scale, the Dayton, Ohio, area posted the largest percentage increase in vacant properties from a year earlier -- 5.2 percent.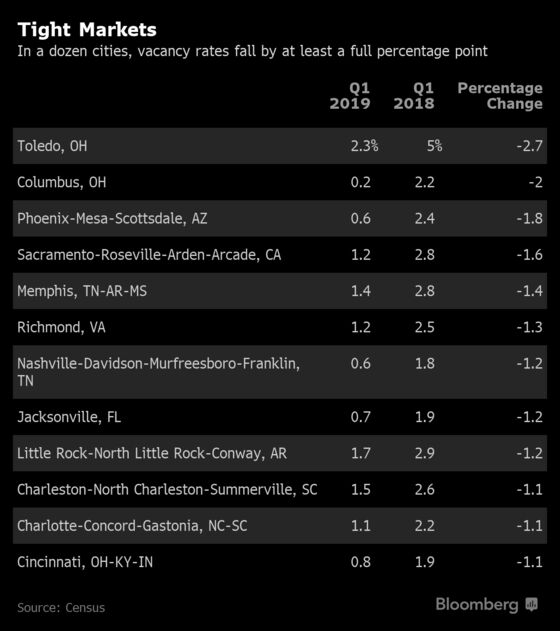 Data on rental vacancies showed Akron, Ohio, and Hartford-West Hartford-East Hartford, Connecticut were also among the tightest. Boston-Cambridge-Newton led that list at 1.7 percent. Fresco, California; Austin-Round Rock, Texas and Cincinnati were the loosest rental markets.
The Census Bureau data are based on a sample-based survey.