Comcast Beats Profit Estimates, Revenue Falls Short
(Bloomberg) -- Comcast Corp. shares jumped to the highest since January 2018 as the company's fast-growing internet business continued to defy the steady loss of pay-TV subscribers.
The largest U.S. cable company signed up 375,000 new broadband customers last quarter, just shy of the 379,000 it added a year earlier and topping analysts' forecasts of 354,000. To win new customers, Comcast has introduced faster broadband service, started selling broadband on a stand-alone basis and added features to its home Wi-Fi.
The results underscore the cross-currents confronting the media-telecom giant and its rivals: Consumers are flocking to fast internet access, providing a boost to Comcast. But they're going online for many reasons, including to watch less-expensive video services like Netflix, costing the company pay-TV subscribers.
The Philadelphia-based company lost 121,000 TV subscribers, more than the 96,000 that left a year ago. Analysts had expected 113,000 video subscriber losses. Revenue at Sky, bought last year for $40 billion, declined 5 percent because of currency changes, even as subscribers grew. Profit also slumped.
Comcast is starting to integrate the two companies. Its first move might be to go after CNN overseas. NBC plans to launch an international news channel with Sky News later this year, Comcast said Thursday.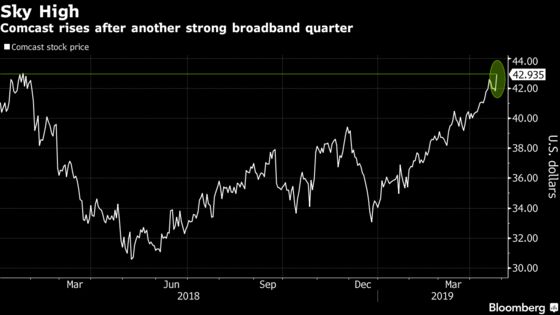 Comcast's shares jumped as much as 3.4 percent after the earnings were released and were trading up 2.4 percent to $42.88 at 10:23 a.m. in New York. Shares had risen 23 percent this year through Wednesday, compared with 17 percent for the S&P 500 index.
Seen more details from the first-quarter results here.
See the company statement here
Click here to compare Comcast shares to the S&P 500