Tiger Woods's Bid to Win Fifth Masters Draws Record-Setting Bet
(Bloomberg) -- An unidentified gambler in Nevada bet $85,000 on Tiger Woods to win the Masters, a wager that would pay out $1.2 million if the onetime golf superstar takes his fifth green jacket this weekend.
The bet, at 14-to-1 odds, represents the largest liability for a single golf ticket in William Hill Plc's seven-year history taking wagers in the U.S. The Masters kicks off Thursday at Augusta National Golf Club in Georgia, marking the latest stop in a comeback bid for the former No. 1 golfer.
Due to strong interest, including the $85,000 bet, odds on Woods have since narrowed to 10-to-1 at William Hill.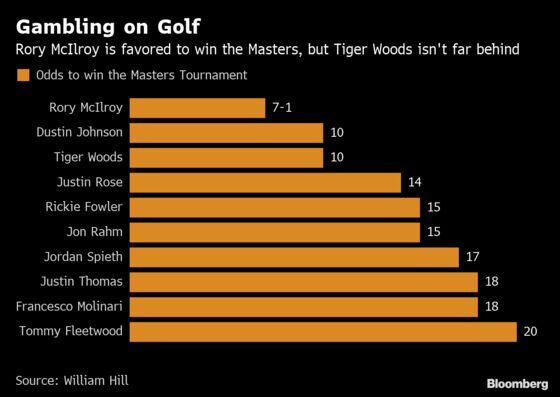 Woods, 43, hasn't won a major since 2008, when he was the dominant force on the PGA Tour and on pace to topple Jack Nicklaus's record of 18 major titles. Over the past decade, he's battled myriad injuries and personal struggles, including a high-profile divorce, a stint in sex rehab and substance abuse. He's played better golf of late, including a win at the Tour Championship in 2018, his first tour victory in more than five years.
A win at the Masters on Sunday would reverse a long stretch where Woods was a bookmaker's best friend. During his struggles, Woods's popularity and his prior dominance made him a popular gambling pick, regardless of how poorly he was playing. Since the start of 2014, he's entered 42 PGA tournaments -- with 11 missed cuts and and just one win.