U.K. Mortgage Lending, Consumer Credit Pick Up in January
(Bloomberg) -- U.K. mortgage lending rose in January and consumers took on more debt than forecast to finance a New Year spending splurge.
Lenders approved 66,766 home loans, the most since October, the Bank of England said Friday. Consumer credit rose 1.1 billion pounds ($1.5 billion), climbing above the 1 billion-pound mark for the first time in five months.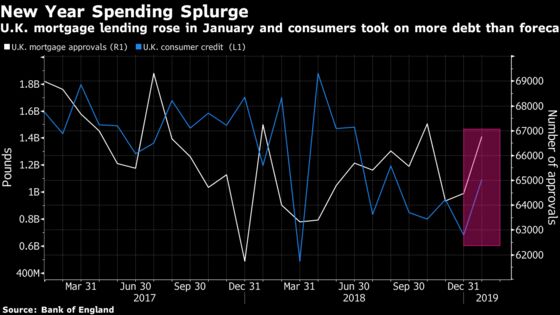 The figures suggest a jump in retail sales last month was in part financed on debt, with borrowing on credit cards and other unsecured loan agreements both increasing.
However, the overall picture remains one of caution, as Britain faces the possibility of leaving the European Union without an agreement to cushion the blow.
Consumer credit rose 6.5 percent from a year earlier, the slowest annual pace in more than four years and down from rates above 10 percent in 2017. Mortgage approvals meanwhile remain well below the average seen before the 2016 Brexit referendum, reflecting the downturn in the housing market.
Separate reports published Thursday showed continued weakness in the property market, a fall in business optimism and consumer confidence remaining close to its weakest since 2013.
Business lending rose 4.5 billion pound in January, the BOE said, while nonresident investors sold a net 9.5 billion pounds of gilts, the largest amount since July.