U.K. Factories Show Brexit Pessimism as Stockpiling Hits Record
(Bloomberg) -- U.K. manufacturers stepped up their preparation for a chaotic Brexit in February, building up stockpiles at a record pace.
The increase in inventories came as companies' optimism dropped to the lowest since at least 2012 and the rate of job losses in the sector reached a six-year high, according to a IHS Markit's survey Friday. The firm's sector-wide Purchasing Managers Index fell to a four-month low of 52 -- the second lowest level since the 2016 referendum.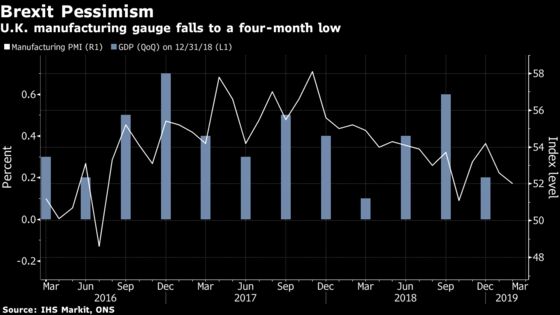 While prospects of a delay are increasing, the U.K. is still due to leave the European Union at the end of this month. Almost 70 percent of the companies offering a reason behind the build-up of stocks attributed it to Brexit, Markit said.
Business optimism fell to the lowest level since it was first measured in July 2012, with companies citing concerns over Brexit, exchange rate uncertainty and slower global economic expansion.
Manufacturers cut employment for a second straight month, with losses coming throughout the sector.
Growth in new orders fell to a near-stagnation last month, amid signs of a slowing market in the U.K. and a drop in export requests.
While output grew slightly, this was mainly connected to firms rushing to reduce backlogs of work and build up stocks before the U.K.'s exit date, Markit said.
Speaking in Parliament earlier this week, Bank of England Governor Mark Carney said that U.K. firms are hampered by a lack of warehouse space, and their stockpiling efforts may be inadequate for sever disruption in the case of a no-deal Brexit.
Markit is due to publish similar indexes for the U.K.'s construction and dominant services sector next week.