Swedish Fashion Stock's Sudden Doubling in Value Baffles Market
(Bloomberg) -- Shares of unprofitable Swedish fashion brand Odd Molly AB have soared 136 percent in the past five trading days, baffling investors as no one knows why.
After suddenly gaining 7 percent on Feb. 25, the stock has jumped between 18 percent and 29 percent each day since. Volume has soared, reaching more than 3,000 percent of the daily average in the past three months on March 1. Odd Molly's market value has more than doubled to 98 million kronor ($11 million).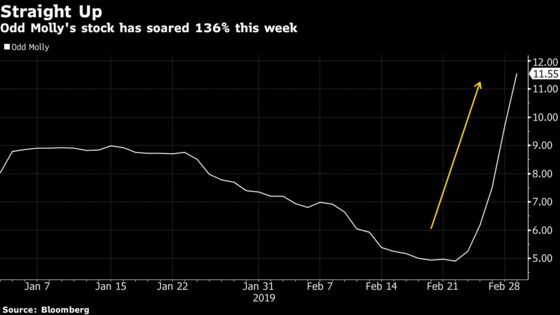 Speculation among confused investors on online forums focuses on everything from potential M&A to the digital transformation of the company, which designs, markets and sells fashion and other lifestyle products for women.
Jonas Olavi, Nordic head of tactical asset allocation at Alfred Berg, said opportunistic investors may be positioning themselves in a "bombed-out" stock, hoping it will gain momentum after a raft of internal strategy changes. Even after this week's surge, Odd Molly shares are down more than 90 percent from their 2007 peak, weighed down by growing online competition and discounting.
"As a private investor, one should be very careful with jumping on steep share-price increases, when not even the company itself can offer any explanations," Olavi said. "These often end up in big declines."
The stock exchange, Nasdaq Stockholm, is "aware of the share-price increase and is following the development carefully," spokesman David Augustsson said in an emailed response to questions.
Odd Molly's full-year results on Feb. 14 offered little assurance. Operating revenue dropped 20 percent to 346.9 million kronor while the operating loss widened to 60.6 million kronor from 4.5 million kronor. The company proposed, just like last year, that no dividend be paid. Its financial goals include an annual growth rate that exceeds 20 percent on average in the coming years, and an operating margin over a business cycle of more than 12 percent.
To address its challenges, Odd Molly has initiated strategic measures, including cost cuts and a reduction of the product range and retail network, and introduced a licensing model for several international markets. That will make it a "more streamlined and efficient company with a focus on digital sales, branding and product range, while reducing risk and tied-up capital," it said.
"Odd Molly finished 2018 in line with the weak trend from the previous quarters due to a challenging market and initiated comprehensive restructuring efforts," Chief Executive Officer Jennie Hogstedt Bjork said in the report. "These initiatives will render positive effects materializing gradually during 2019, with emphasis on the second half of the year."
Odd Molly's Chief Financial Officer Johanna Palm was unable to say why its shares have gained so much, when contacted by Bloomberg News on Friday.
According to Olavi at Alfred Berg, Odd Molly now needs to show the market that the transformation it has embarked on "is the right strategy and that it bears fruit." That should take at least two or three quarters, if not longer, he said.