German Unemployment Falls as Firms Regard Slowdown as Temporary
(Bloomberg) -- German unemployment continued its almost non-stop decline over the past five years, suggesting companies view the recent slowdown in Europe's largest economy as transitory.
Joblessness fell by a seasonally adjusted 21,000 in February to 2.236 million, more than four times as much as economists expected. That's supporting the Bundesbank's assessment that key growth drivers remain intact despite weakening global demand and geopolitical uncertainties. The jobless rate remained at 5 percent.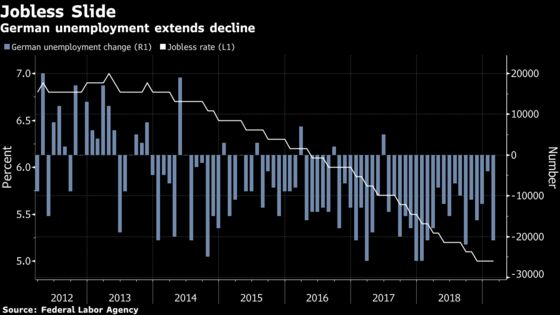 The report suggests domestic demand will continue to support economic growth after Germany barely skirted a recession in the second half of last year, caused mainly by temporary setbacks. Unemployment dropped by 15,000 in west Germany and by 6,000 in the eastern part.
Jobless data for the euro area is due later on Friday and is expected to show that unemployment held at a rate of 7.9 percent in January.