What's Next for Comcast and Sky?
(Bloomberg) -- Comcast Corp. outgunned Rupert Murdoch's 21st Century Fox Inc. in the battle for British pay-TV company Sky Plc, besting its rival at an auction on Saturday with a $39 billion bid.
Now Comcast Chief Executive Officer Brian Roberts needs to seal the deal.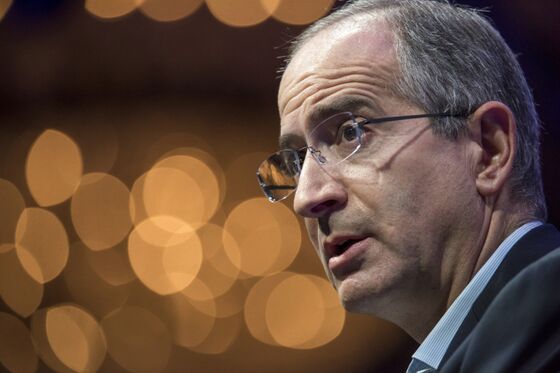 Comcast's final bid of 17.28 pounds a share was well above the 15.67 pounds offered by Fox and Comcast was actively buying Sky shares on the open market on Monday in an effort to amass more than 50 percent of the stock and cement control.
Sky shares jumped 8.8 percent to 17.24 pounds as of 8:45 a.m. in London.
What happens to Fox's 39 percent stake in Sky?
Fox, backed by Walt Disney Co., is considering its options. The company could decide to sell the stake to Comcast and cash in, a move that would help its rival rapidly reach its acceptance target. Fox is mulling tendering the stake if Disney supports the move, according to people familiar with the matter. Alternatively, it could hold on to the stake, staying a major owner of Sky.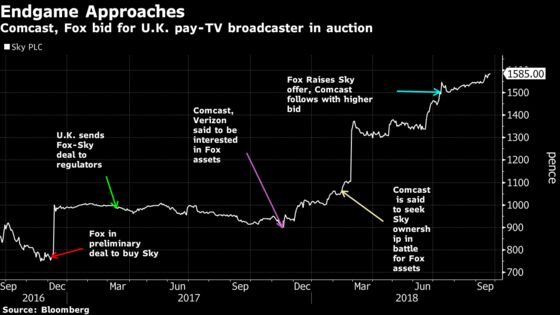 The battle for Sky has been a long-running saga, and marks the second time in a decade that Murdoch has tried to take back ownership of a company he founded in the late 1980s. Here are some key dates:
June 2010: Murdoch's News Corp. prepares a $12.6 billion bid for Sky, which is abandoned in July 2011 after a phone-hacking scandal at his 'News of the World' newspaper, which made the deal politically unfeasible.
December 9, 2016: Fox, a descendant of News Corp., makes a fresh 10.75 pounds-per-share bid for the 61 percent of Sky it doesn't already own. Sky's shares had been trading at around 7.50 pounds.
September 14, 2017: U.K. government refers the Fox takeover to regulators on concerns it will give Murdoch too much influence over British media
December 14, 2017: Fox announces $52 billion sale of entertainment assets, including its Sky stake, to Disney
January 23, 2018: U.K. regulators say Fox-Sky deal would give Murdoch too much influence, seek remedies
February 13, 2018: Sky secures latest package of English Premier League soccer broadcast rights for less than expected, boosting its value
February 27, 2018: Comcast makes a rival offer for Sky at 12.50 pounds per share, a 16 percent premium to the Fox bid
July 11, 2018: Fox increases bid for Sky to 14 pounds per share
July 11, 2018: Comcast raises offer for Sky to 14.75 pounds per share
July 12, 2018: U.K. government clears Fox's Sky bid, conditional on it selling Sky News to Disney
July 19, 2018: Comcast drops pursuit of Fox -- after Disney bids $71.3 billion for its entertainment assets -- to focus on Sky
September 22, 2018: Comcast and Fox make best and final offers for Sky, with Comcast coming out on top with 17.28 pounds-per-share bid. Fox bid 15.67 pounds per share.