Brazil's Leading Presidential Candidate Improving After Near-Fatal Knife Attack 
(Bloomberg) -- The condition of Brazil's leading presidential candidate, Jair Bolsonaro, has improved enough for him to leave semi-intensive care, according to the hospital where he is being treated after a near-fatal knife attack.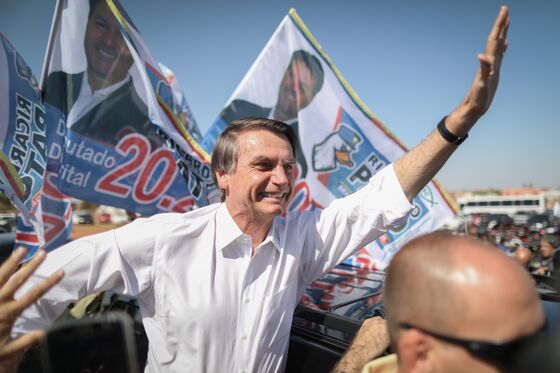 While Bolsonaro, a far-right former Army captain, remains hospitalized, there has been no new pain, fever or other complications, according to a statement from Sao Paulo's Albert Einstein Hospital. He continues to eat soft food and practice preventive therapy to avoid thrombosis. Bolsonaro is also taking walks outside the room and doing breathing and muscle-strengthening exercises, according to the bulletin.
It's unclear if he'll be able to resume campaigning before the Oct. 7 first-round election. In a video posted on Twitter on Friday, Bolsonaro, 63, said he expected to leave the hospital by the end of September.
Bolsonaro underwent two surgeries after being stabbed in the stomach Sept. 6 by a fanatic during a street rally. He has been hospitalized since.
Investors are closely monitoring the electoral prospects of Bolsonaro, who leads opinion polls but is expected to face a tight runoff. Many prefer him over two competitive candidates who pledge to undo pro-business legislation approved by the current administration. A poll published Saturday on website Poder360 showed Bolsonaro in a statistical near-tie with Workers' Party candidate Fernando Haddad in a likely second round vote in late October.