Brazil in Need of Radical Pension Reform, Alckmin's Adviser Says
(Bloomberg) -- The current proposal for overhauling Brazil's pension system now being debated by the country's Congress is "timid" and needs to be ramped up, the economic adviser to PSDB presidential candidate Geraldo Alckmin said on Saturday.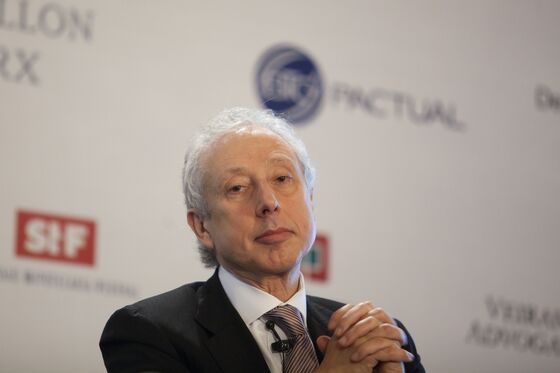 Persio Arida, 66, a Massachusetts Institute of Technology-educated economist who had a brief stint as president of Brazil's central bank in the 1990s, called for a more radical approach to reform during a debate with the economic aides to other presidential hopefuls in Sao Paulo on Saturday.
The pro-business candidate Alckmin is trailing badly in polls ahead of Oct. 7, the first round of Brazil's presidential election, with six percent support, according to a recent poll.
Some of the key takeaways from the forum:
Arida said Brazil needs to choose if it will go in the direction of Chile or of Venezuela

Brazil can't repeat Argentina's mistakes, it has to implement and modernize fiscal reforms at the same time, he says

Guilherme Mello, economic adviser to the Workers' Party, said pension reform needs to be part of a broader package to reform Brazil's state to reduce privileges

The Workers' Party presidential candidate, Fernando Haddad, places second in the polls for the first round of voting
There's no way Brazil can solve its fiscal problem with growth of only 1 percent, says Mello
Tax benefits to companies have to be revised: Mello
He says a Workers' Party government would work within Brazil's macroeconomic tripod (substantial primary surplus, inflation targeting and floating exchange rate), but "its relations are not absolute"

Nelson Marconi, adviser to left-wing presidential candidate Ciro Gomes of the PDT, who's pulling at 14 percent, said Brazil needs to stabilize exchange rate at a competitive level

Says Brazil's exchange rate has "too much volatility"
The fiscal issue is urgent and its the starting point for reform: Marconi
He proposes raising inheritance taxes and starting to tax dividends

The economic advisers participated on a debate promoted by Brazil brokerage XP Investimentos

Paulo Guedes, the economic adviser of Brazil's leading presidential candidate, Jair Bolsonaro, didn't attend the event
Guedes was scheduled for a lecture Friday at the same event