U.K. Heatwave Lifts Brexit Gloom as Economy Beats Expectations
(Bloomberg) -- The U.K.'s scorching summer has pushed the economy's performance well beyond expectations.
Citigroup Inc.'s Economic Surprise index for the U.K., which measures whether economic data have exceeded or fallen short of analysts' estimates, climbed to 25.5 on Thursday, the highest since January.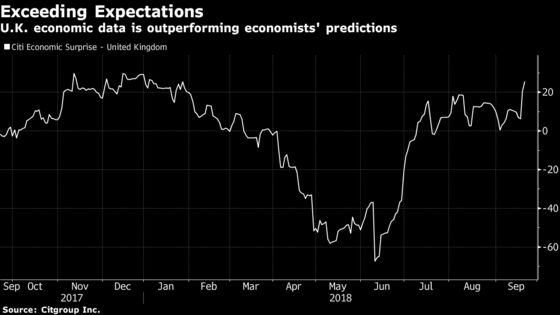 The gauge has been boosted by a string of reports that have painted a positive picture of the nation's economy as the summer heatwave boosts consumer spending and business activity following a winter freeze. That better weather is underpinning growth even as a lack of progress in the U.K. Brexit's talks leaves businesses complaining about uncertainty and economists downgrading their outlooks.
This month alone, the Office for National Statistics has reported faster-than-predicted overall expansion, a surprise pick-up in wages and unexpected jump in retail sales. On Thursday the ONS highlighted that the U.K. had seen its hottest summer on record, which has encouraged shoppers to splash out.
As the nation heads in autumn, the outlook may turn gloomier. The impact of the heatwave is likely to prove transient, while the bigger question of the U.K.'s future relationship with the European Union remains unresolved.