Trump Trade War Is Dividing Farming World as China Demand Shifts
(Bloomberg) -- Soybeans have become something of a poster child for the U.S.-China trade war, with everyone from Treasury Secretary Steven Mnuchin to President Donald Trump opining on the humble oilseed. But the tariffs are also sparking some little-known consequences.
One of the biggest impacts of China's 25 percent duties against American soy shipments is the divergence of price trends between the U.S. and rival exporters in South America. With a volatile trade environment, no one is sure how long that trend will last. Uncertainty for farmers is ramping up as growers in the Northern Hemisphere are starting to collect this year's massive crop, while those in the south are beginning to think about planting their next one.
Here's a breakdown of what's happening across the two continents:
Demand from China, which is looking for soybeans from everywhere but the U.S., has already driven up premiums for shipments from Brazil. Now, as those exportable supplies start to run out, it's Argentina's turn in the spotlight.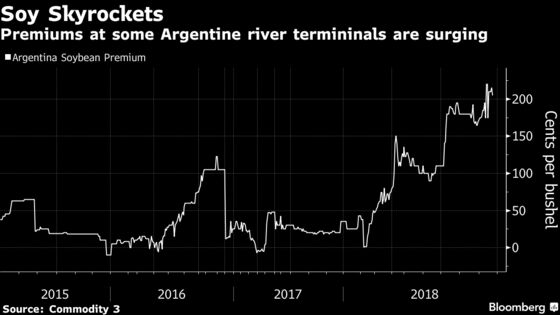 At some river terminals in Argentina, the premium for soybeans for November shipment has surged to more than $2.20 a bushel over benchmark futures this month, up from 30 cents a year ago, according to Commodity 3 data compiled by Bloomberg News. With the enticing outlook for export profits, the country has taken the rare step of importing the oilseed to meet domestic demand, while shipping its own crop over to China. The price is also climbing after drought earlier this year hurt yields.
Meanwhile in Brazil, the soy rally that drove premiums up more than 200 percent in some cases is starting to squeeze margins for domestic processors. Raw beans are typically crushed into a meal that is used in animal feed, and that also creates cooking oil as a byproduct. The country's mills are having to compete with exporters for the few supplies left after the 2017-2018 season.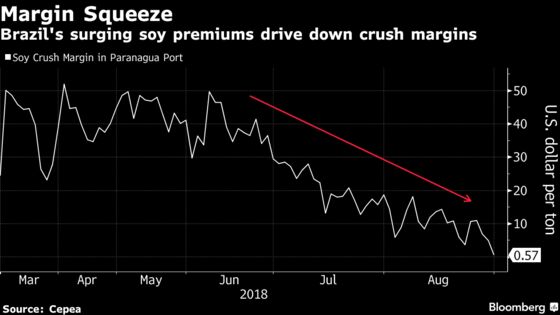 That's unusual for this time of year, when soy shipping tends to slow, said Lucilio Rogerio Alves, an analyst at Cepea, the University of Sao Paulo research arm. In Rio Grande do Sul state, crushers are working at low capacity, and in some cases, margins have turned negative, according to Mario Sperotto, a broker at Agrisoy Commodities. The next crop isn't gathered until the beginning of next year, leaving little relief in sight for now.
"If the trade war talks continue, we may have even lower margins next season," said Daniel Furlan Amaral, economics manager at Brazil's soy processors group Abiove.
With China snubbing American shipments, U.S. soy prices are tumbling. In many areas, cash spreads against futures have turned negative. For spot soybean supplies delivered to U.S. Gulf, the differential on Friday fell to discount of 7 cents a bushel, government data show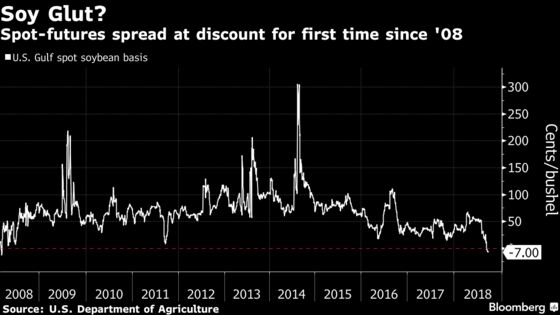 The slump for domestic prices means profits for crushers is one of the brighter spots in the agriculture industry.
The margin -- or spread between the value of the meal and oil minus the cost of soybeans -- for most of 2018 has been trending at seasonal highs that have been the most profitable since at least 2006, according to CME Group data compiled by Bloomberg.
Currently, the crush margin is the highest for this time of year in more than a decade.