The Ryder Cup, Plus Tiger and Phil, Drive a Match Play Bonanza
(Bloomberg) -- Golf's four major tournaments have come and gone for 2018, but the fall calendar still presents a pair of red-letter days for the sport. The Ryder Cup, the biennial competition between the best players from Europe and the U.S., begins Sept. 28 outside Paris. Two months later, U.S. teammates Tiger Woods and Phil Mickelson will meet in Las Vegas for a winner-take-all pay-per-view round of match play, with a $9 million pot.

More than 20 million U.S. viewers tuned in to see some part of the Ryder Cup on NBC and the Golf Channel two years ago when it was played in Minnesota, including 4.3 million on the final day. (This year's Masters, by comparison, drew an average of 13 million viewers for its final round.) Over the last four years, according to research by Nielsen Sports, the Ryder Cup has added more than 6.7 million fans worldwide, on top of a baseline of 50 million. The showdown between Woods and Mickelson is part of AT&T's effort to flex its media muscle after the $85 billion purchase of Time Warner Inc. and will get promoted, played, and replayed across the company's streaming and cable TV outlets including HBO and Turner.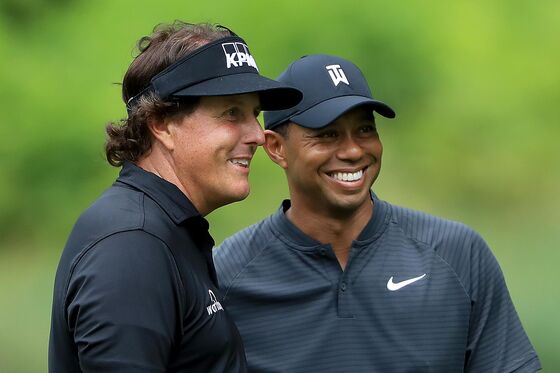 Both events present a chance to build on a modest revival for the sport, driven largely by the reemergence of Woods as a world-class golfer. They also offer a tandem showcase for the match play format, where players vie to win each hole rather than tally the total number of strokes in a round.  
"Match play is really cool but it's losing its place in golf," says Stuart Lindsay, a consultant at Edgehill Golf Advisors. "In my opinion, it helps explain why we can't get people engaged." He points to a 2016 survey of more than 1,000 avid players commissioned by Golf.com that found nearly 50 percent prefer the stroke play format and roughly 30 percent some form of match play. Where past generations learned to play variations of match play at private clubs, he says, golfers are now following what they see on the PGA Tour, where most events use stroke play. 
Mike Davis, chief executive of the USGA, however, says the death of match play is greatly exaggerated. It remains the favored format among recreational players, according to the association's Golf Handicap and Information Network (GHIN), which covers the majority of handicapped golfers nationwide. "If you go way back in history, people just didn't play stroke play," says Davis, "That's not how the game started and, for centuries, there really wasn't a stroke play format." 
Match play, in essence, turns a round of golf into a series of mini-rounds, making it easier for players of different abilities to compete. Where one terrible hole can ruin an entire round in stroke play, match play makes every hole a fresh start. This, argues Lindsay, makes it a more accessible way to play and a remedy for much of what ails golf. "If you're playing match play, you're able to compete all the way through." The format also helps increase the pace of play, since golfers can simply pick up their ball once a hole is lost. Golf's handicap system also allows players of all levels to compete, yet creating and maintaining a handicap takes time, effort, and money. (There are currently roughly 2.25 million handicapped golfers in the USGA's system.) Match play, on the other hand, needs no record keeping. And it can be combined with handicapping. 
"Neither format is right or wrong but you could make an argument that match play is maybe a more interesting, more enjoyable format," says Davis, "because it allows you to maybe take a little bit more risk." That risk-taking should help add to the drama in November when Woods and Mickelson go head-to-head for more money than Arnold Palmer won in his entire PGA Tour career.