S&P Raises Australia AAA Outlook to Stable on Surplus Confidence
(Bloomberg) -- S&P Global Ratings raised its outlook on Australia's AAA credit rating to stable from negative, saying it was confident the budget would return to surplus and the nation would avoid a property crash.
The ratings company, which revised Australia's outlook to negative in July 2016, said it expected the budget to return to the black early in the next decade -- shortly after the government's own projection for fiscal 2020. It cited a large infrastructure spending program as the main reason why its optimism didn't match that of lawmakers.
"We expect steady government revenue growth supported by the strong labor market and relatively robust commodity prices, to be accompanied by expenditure restraint," the rating agency said in a statement. "We also expect property prices to continue their orderly unwind, and that this slowdown won't weigh heavily on consumer spending and the financial system's asset quality."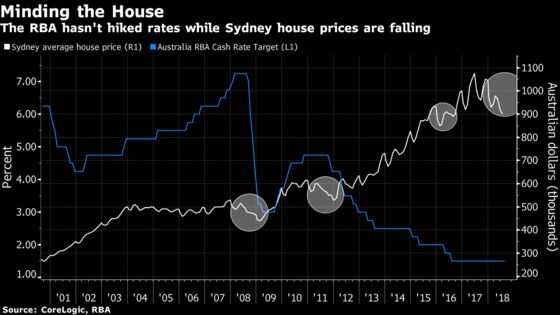 The vote of confidence chimes with the Reserve Bank of Australia's view that the economy is slowly, but surely, heading in the right direction. A hiring boom and robust resource exports have helped fill government coffers faster than previously projected. The tighter labor market is a key factor for the central bank as it patiently waits for the right conditions for its first interest-rate hike since 2010 -- which markets don't expect for at least another year.
"On the back of our projections for steady economic growth, employment and wage trends over the next few years should continue to support revenue growth," S&P said in the statement. "Although downside revenue risks from commodity prices have receded in the near term, we believe they persist."
S&P appeared unfazed by renewed political turmoil that last month saw Malcolm Turnbull ousted as prime minister in favor of Scott Morrison, following months of infighting within the ruling Liberal-Nation coalition. It remained confident that both sides of politics were committed to returning the budget to its first surplus since the global financial crisis.
"The aim for a budget surplus has been consistent across different ruling parties and leaders; so we do not expect the latest political developments to change our fiscal projections," S&P said.
"We also consider the Australian government to have more willingness and ability to raise revenue than most other sovereigns," S&P said. "The government, for instance, has been able to raise its revenue as a share of GDP over the past seven years despite commodity prices remaining well below the peaks in 2011 over this period."