New Lacrosse Team Is Headed to New York's Nassau Coliseum
(Bloomberg) -- The National Lacrosse League is expanding again, this time to Long Island, according to a person familiar with the matter.
The professional indoor lacrosse league is nearing an agreement to place a franchise at the Nassau Veterans Memorial Coliseum, the arena in Uniondale, New York, controlled by Brooklyn Nets parent company BSE Global. The league is close to selecting an ownership group for the team, said the person, who asked not to be identified because the discussions are private.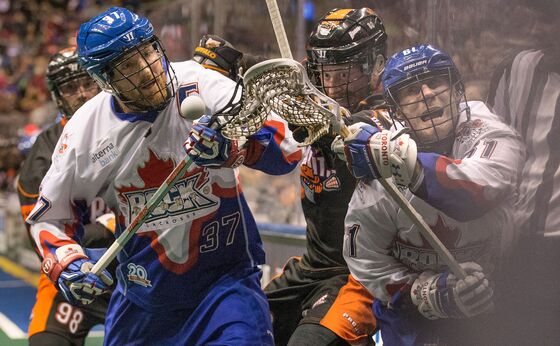 The NLL, which currently has 11 teams, declined to comment, as did BSE Global. The Coliseum is also the part-time home of the National Hockey League's New York Islanders, who also play at Brooklyn's Barclays Center.
Planting a flag on Long Island is part of an expansion plan for the league, which has existed in its current incarnation since 1997. NLL earlier this month awarded a franchise to Halifax, Nova Scotia, which will assume the club that's currently playing in Rochester, New York. As part of that deal the league added a new team to Rochester that'll be controlled by Buffalo Bills and Sabres owner Terry Pegula.
Long Island has long been considered a hotbed for U.S. lacrosse, which had 447,213 youth participants last year (14 and under), up from 241,581 a decade earlier, according to the sport's national governing body. The sport is also booming at the college level. Last year, 371 schools sponsored men's lacrosse, up from 295 in 2012. For women's lacrosse, the number rose to 498 schools from 376 in the same five-year period.
The NLL operates its own online video service and announced a deal in March to show matches on AT&T Inc.'s B/R/ Live sports streaming app. The league has also had digital broadcasting agreements with Twitter Inc., Facebook Inc. and CBS Corp.'s online division.
Major League Lacrosse, the professional outdoor league, has a team that plays at Hofstra University, which is about a quarter mile from the Coliseum.