As Danske Counts Cost of Money-Laundering Lapses, U.S. Looms
(Bloomberg) -- The potential costs of Danske Bank A/S's money-laundering scandal are climbing. How high the bill goes may ultimately depend on the U.S. government.
Chief Executive Officer Thomas Borgen resigned on Wednesday as Denmark's largest bank released a report detailing years of compliance failures that allowed a river of suspicious funds to flow through its Estonian unit.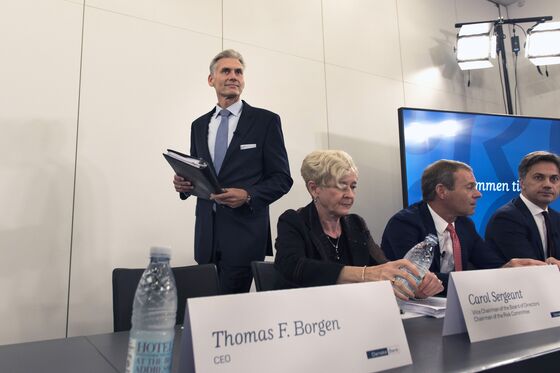 By day's end, the Danish government had threatened to fine the bank as much as 4 billion kroner, or about $630 million, a record for such cases in Denmark. But the bigger question for the bank and its shareholders is whether the U.S. -- which has a history of going after European banks -- will muscle into the case.
"Whether the U.S. acts depends on the size of the penalty and whether the U.S feels that its interests are directly affected," said Nicolas Tollet, a lawyer specializing in anti-corruption, money-laundering and sanctions issues for Hughes Hubbard & Reed in Paris. If the bad actors didn't include any Americans and funds didn't directly touch the U.S., it might leave enforcement to Denmark. If U.S. sanctions laws were broken, it would be more likely to intervene, he said.
Danske Bank has faced criticism for months over the anti-money-laundering breaches at its Estonian operations. The long-awaited report released Wednesday, prepared for the lender by Copenhagen law firm Bruun & Hjejle, described a litany of lapses.
The U.S. Treasury has been looking very closely at the Danske allegations, assistant secretary for terrorist financing Marshall Billingslea said in an interview with the Danish newspaper Berlingske on Aug. 30. He added that his department was working closely with Danish and Estonian authorities. The Treasury didn't immediately respond to requests for comment, while officials at the U.S. Securities and Exchange Commission and Department of Justice declined to comment.
Danske Bank's report said no sanctions violations have so far been found, providing solace to some analysts. Deliberately evading U.S. embargoes, often accompanied by money laundering, has sparked some of the biggest fines the country has levied against foreign banks, including a $9 billion settlement with France's BNP Paribas SA in 2014.
"The lack of any sanctions breaches or U.S. law breaks so far, combined with the already known facts that Danske does not have a U.S. banking license, and is not a U.S. dollar clearer, we see as a major positive," Citigroup analysts Ian Sealey and Ronit Ghose wrote in a note.
U.S. regulators declined to take action in a recent European case, where the local authorities imposed a substantial penalty. ING Groep NV of the Netherlands said this month that the SEC didn't plan additional enforcement after the Dutch lender agreed to pay about $900 million to settle a money-laundering probe.
The case that most closely resembles Danske's may be the so-called mirror trades that allowed Deutsche Bank AG's Russian clients to take as much as $10 billion out of the country by buying shares for rubles on the local market and simultaneously selling the same stocks for dollars or euros through Deutsche Bank's London office. Last year, the German lender paid more than $600 million in fines to U.S. and U.K. regulators over the matter. The U.S. Justice Department is still conducting a criminal probe related to the trades.
The U.S. Treasury has also gone after small banks with business models that appeared to be based on laundering cash -- such as Latvia's ABLV Bank AS, earlier this year -- naming them "primary money laundering concerns'' and banning U.S. banks from maintaining correspondent accounts for them. Most lenders so designated by Treasury have gone bust or been taken over by local regulators.
But there are limits to the U.S.'s willingness to bring such severe actions. The U.S. considered and then shelved the idea of blacklisting Agricultural Bank of China and China Construction Bank, two of China's biggest banks, for doing business with North Korea, Bloomberg reported in April, primarily because of fears that punishing lenders of that size might send shock waves through the global financial system.
Danske is smaller than those banks in terms of assets, although it is designated as a systemically important financial institution for Denmark.
The head of Denmark's financial regulator said the U.S. wouldn't take drastic steps against Danske Bank, and would coordinate any measures it might be planning with Danish authorities before acting.
"My expectations would be that there is a close dialogue between us and the U.S. authorities well before we arrive at any such stage," Jesper Berg, director general of the Financial Supervisory Authority, said in an interview.
Meantime, Britain's National Crime Agency signaled it's looking into the role of U.K.-registered companies in the Danske Bank scandal, after the lender identified the country as the second-biggest source of foreign clients at the Estonian branch after Russia.
Danske Bank fell 1.2 percent by 12:34 p.m. in Copenhagen trading, bringing the drop this year to 28 percent, the second-biggest decline on the Bloomberg Europe 500 Banks and Financial Services Index.
Danske Bank's 87-page report describes how some $235 billion ran largely unchecked through its Estonian unit for nearly a decade. Among a series of "missed opportunities," it ignored warnings from foreign regulators as far back as 2007 that the unit was being used for tax evasion and money laundering, the report stated. The bank also failed to properly investigate a whistle-blower report from 2013, and only really began to look into the matter in response to an article in the Berlingske newspaper in 2017, according to the report.
The Estonian branch failed to screen payments from non-resident accounts against sanctions or terror lists, Danske's report said. The probe hasn't turned up breaches so far, though the review of accounts isn't complete.
"We're aware that foreign authorities are monitoring Danish banks and could open cases," Business Minister Rasmus Jarlov said. "That just makes it even more important that we handle things thoroughly in Denmark, to make sure nobody elsewhere is left with the impression that we're not coming down severely on this."