Argentina 100-Year Bond Rally Advances on IMF Optimism
(Bloomberg) -- The rally in Argentina's 100-year bonds has taken yields below the 9 percent threshold for the first time since Aug. 1 amid bets the International Monetary Fund will expand its credit line.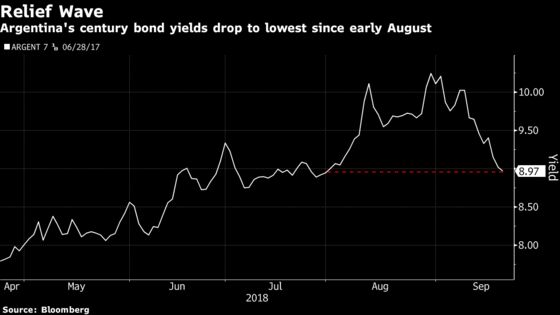 After a rout in August, overseas debt from Argentina has returned 8.9 percent this month, joining a rally in emerging-market assets to post the second-best performance among peers. The IMF is working with a "sense of urgency" to help the country restore confidence, a spokesman said Thursday. Clarin newspaper reported that day that Argentina was seeking to expand its credit line with the lender to as much as $70 billion from $50 billion.
The moves come as investors focus on one of the countries hardest hit by a move away from emerging market assets. The peso lost more than half its value in 2018 and Argentina's government was forced to seek an unprecedented $50 billion loan from the IMF amid concern that officials weren't moving fast enough to close the budget and current-account deficits.
"The Argentine bond market has recovered strongly in the last two weeks on hopes that the IMF will provide additional funding to dispel doubts about the country's solvency in the medium term," said Alejandro Hardziej, a fixed income analyst at Julius Baer. "We remain constructive on Argentina as we believe the government is responding appropriately to unfavorable external conditions."
Argentine spreads against Treasuries also dropped below 600 basis points for the first time since August. The peso extended gains for a third day to the lowest since Sept. 11. As part of the IMF deal, the country's Central Bank is looking to create a floating range for the peso, local newspaper Clarin reported, that would allow the peso to trade freely within a range of 32 to 44 pesos per dollar.
"It's difficult to say whether the upgraded IMF program will provide a positive shock to confidence," Siobhan Morden, head of Latin America Fixed Income Strategy at Nomura Holdings, said in a note. "However the latest price action suggests greater sensitivity to positive headlines and strength ahead of the announcement."