U.K and EU Swap Jibes and Point Fingers as Brexit Clock Ticks
(Bloomberg) -- European and U.K. leaders exchanged warnings that time is running out to seal an agreement on Brexit and offered no indication they can break the deadlock less than two months before the deal is due to be completed.
At a summit in Salzburg, Austria, European Commission President Jean-Claude Juncker said a Brexit deal was "far away." Irish Prime Minister Leo Varadkar said there had been no progress in talks since March. The U.K.'s Theresa May said there will be no extension to Britain's membership to give negotiators more time.
In the runup to the summit, officials had emphasized how much of the divorce agreement has already been drafted while EU diplomats had expected their bosses to try to avoid destabilizing May, who is vulnerable at home. But the leaders struck a harsher tone when they met face to face and the pound fell as they filed into dinner.
"I know we won't agree on every detail but I hope you will respond in kind," she told leaders over food, according to her office. "The onus is now on all of us to get this deal done."
A special summit is set to be called for mid-November, for a final Brexit deal to be done. But chief EU negotiator Michel Barnier said late Tuesday that the U.K. couldn't postpone decisions until then, and would have to come up with new proposals in time for the next summit in October. EU President Donald Tusk is trying to find a date for the November meeting, at some point between Nov. 5 and Nov. 13.
The main stumbling block remains the Irish border and the differences between the sides may be becoming more entrenched.
EU officials are starting to rewrite their proposal on the border to make it more palatable to the U.K. But they aren't budging on the issue that's most unacceptable to the U.K. -- that Northern Ireland would have a different customs regime to the rest of the U.K., diplomats in Brussels said.
May told fellow leaders at dinner that idea "isn't credible," according to an official.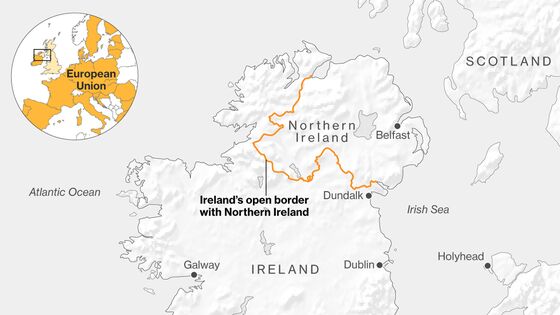 The issue is controversial as both sides have committed to making sure no hard border emerges on the island.
The almost invisible division between Northern Ireland and the Republic of Ireland is a fundamental plank of the peace process that ended decades of terrorist violence and is possible now because both are in the EU's single market and customs union.
The U.K. wants to leave both when it quits the bloc.
To avoid restoring police checkpoints but also to protect its single market, the EU is demanding controls between Northern Ireland and mainland Britain. The U.K. says that undermines its territorial integrity.
Adding to the negative mood, Tusk also told May that her plans for the future relationship with the bloc need to be "re-worked." May says that her proposals -- which involve staying close to the single market on goods but breaking free for services -- already represent a significant compromise and are the only ones that will work.
She said it's now up to the EU to make concessions and told them to abandon any hopes that Britain will change its mind about leaving, insisting there will be no second referendum.
Austrian Chancellor Sebastian Kurz, who called on the U.K. to compromise, said he hoped a deal would be done in November.
"But nobody can say if we will succeed," he added.