Treasury Yields Take Flight, Setting Up Big Shorts for Rewards
(Bloomberg) -- Liftoff may finally have arrived for yields in the world's biggest debt market. That's good news for the fast-money crowd that's rarely been more bearishly positioned on 10-year Treasury futures.
Yields on all maturities have taken flight this week, with longer-dated rates leading the charge higher. That's despite recent warnings by DoubleLine Capital's Jeffrey Gundlach that a "massive increase" in short positions against 10-year and 30-year Treasury markets could spur a short squeeze. The yield on the benchmark 10-year note has surged firmly above the much-watched 3 percent mark, trading steady at 3.06 percent in Asia on Thursday after the highest U.S. close in four months. The most recent moves have reversed a small part of the relentless curve flattening that's been seen this year, pushing some yield gaps to the widest levels in more than a month.
Investor concern about the risks of a full-blown global trade war is easing. Premier Li Keqiang said China won't devalue its currency in order to make its exports more competitive, even after the latest exchange of tariff salvos with America. Sentiment is being helped by a buoyant U.S. economy, too. Investors' belief in the prospects for Federal Reserve tightening also appears to be growing, while rising share prices around the world have dimmed flight-to-quality demand for government debt, putting upward pressure on U.S. yields.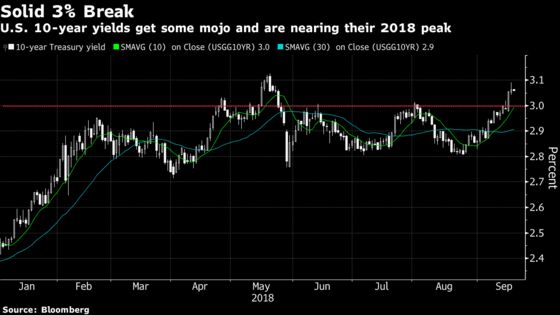 "We are breaking out," said Peter Tchir, head of macro strategy at Academy Securities Inc. "People had gotten a little complacent regarding the Fed keeping rates lower for longer and the yield curve staying flat. And now also there is a growing number of people who see possibilities for trade deals, which is good for global growth."
The 10-year rate is on course to plow through its 2018 peak, said Tchir, who sees it rising in coming weeks to as high as 3.25 percent. He also expects the yield curve to steepen and warns that waning demand from pension funds could hurt demand for longer-term U.S. debt.
All that could prove a boon for those punting against Treasuries, and painful for those holding long positions. Hedge funds and other large speculators have a near-record short position in 10-year Treasury futures, according to Commodity Futures Trading Commission data. Asset managers, on the other hand, appear to remain resolutely bullish.
The 10-year yield has risen more than six basis points so far this week, and touched 3.09% on Wednesday. The year-to-date peak of 3.1261 percent reached in May was the highest level since 2011.
Veteran bond manager Dan Fuss, who said in April that the 10-year Treasury yield will be above 4 percent in two years, reckons that the rise now under way has more room to run in 2018. He anticipates that the rate will probably be between 3.45 percent and 3.5 percent by the end of December. Part of his argument is that he and his colleagues at Loomis Sayles & Co. see trade wars as inflationary. He also expects that the Fed will tighten monetary policy next week and assesses the odds of another hike in December at about 60 percent.
"Rates are headed up," said Fuss, whose firm manages about $264 billion. Part of the driver for that is his view that tariffs and new sanctions typically put downward pressure on activity and increase prices. "That is a stagflation outcome."