Rand Gains With Bonds Back in Vogue as South Africa Inflation Eases
(Bloomberg) -- South Africa's rand headed for its biggest gain in more than two months as an unexpected inflation slowdown spurred traders to readjust their outlook for interest-rate increases, rekindling appetite for the country's local-currency bonds.
With the consumer inflation rate dipping back toward the midpoint of the target range, investors are betting the central bank has room to delay a rate hike as the economy emerges from a first-half recession. That makes South African debt more attractive, according to Chris Turner, the London-based head of currency strategy at ING Bank NV.
Some analysts speculated that rate increases in Turkey and Russia had added pressure on the South African Reserve Bank to follow suit in support of the battered rand. That view is changing, with money markets cutting the odds on a rate increase at Thursday's policy meeting to 28 percent, from more than 50 percent immediately before the inflation data.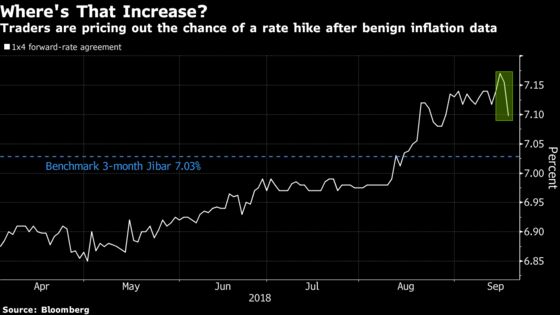 "In benign times, emerging-market investors love the virtuous cycle of lower inflation and unhedged positions in the local-currency bonds," said Turner. "Obviously these aren't benign times, but with investors very short emerging markets and long the dollar, they might be starting to see some interest in returning to the EM local-currency bond story where a lower inflation print helps. It's the exact opposite of Turkey where inflation is still rising."
The rand strengthened 1.7 percent to 14.6467 per dollar by 2 p.m. in Johannesburg. Yields on benchmark 2026 rand bonds fell 14 basis points, the most since June 20, to 9.07 percent. That's still the highest among regional peers with the exception of Turkey, following record outflows from the country's bond market since April.
South African inflation slowed in August from a 10-month high, with consumer-price growth falling to 4.9 percent from 5.1 percent in July, Pretoria-based Statistics South Africa said Wednesday in a statement. The median estimate of economists in a Bloomberg survey was 5.2 percent.
Only three out of 19 economists in a Bloomberg survey are predicting a rate increase on Thursday.