Norway May Raise Rates, But Krone May Take Move in Its Stride
(Bloomberg) -- Expectations for Norway to increase interest rates on Thursday couldn't be any higher, but don't expect the krone to benefit that much.
The currency touched a one-month high on Tuesday on speculation that Norges Bank will not only raise rates for the first time since 2011, but also flag a faster pace of tightening. However, while the krone may receive a boost, any rally may be contained as a tighter stance is already priced in by markets, most analysts say.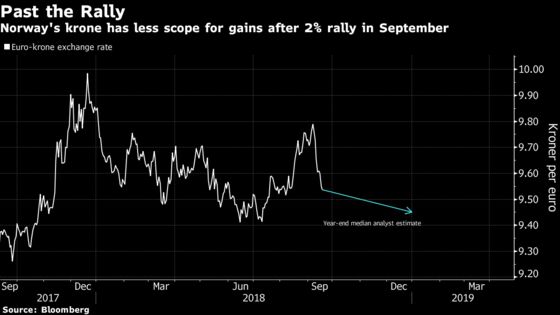 "While Norges Bank could continue to provide some short-term support for the krone given current positioning, we doubt the central bank's outlook can push the EUR/NOK significantly below recent lows," said Magne Ostnor, a strategist at DNB ASA in Oslo.
The Norwegian central bank is expected to raise its policy rate by 25 basis points to 0.75 percent by all analysts in a Bloomberg survey.
The krone has gained 2 percent versus Europe's common currency this month, the best performance among Group of 10 peers. It was trading at 9.5364 per euro as of 3:39 p.m. London time on Tuesday after earlier touching 9.5319, its strongest level since mid-August.
Still, the median analyst estimate is for the krone to advance less than 1 percent and end this year at 9.45 per euro.
Here's what a selection of investors and strategists are saying ahead of the decision:
The krone remains vulnerable toward setbacks in risk sentiment, but improving growth, future monetary policy tightening and a current low valuation suggest that NOK should strengthen against other G-10 currencies over a six-month horizon, according to strategist Erica Blomgren
Forecasts a gradually stronger NOK with EUR/NOK trading at 9.45 in 1Q 2019
Focus will be whether policy makers signal two or three hikes in 2019
Developments since June point to the latter, but expect the bank's cautious approach to limit the upward revision; expect path to signal a second hike in January or March 2019. The long end of the path is expected to be lifted by some 5-10bps implying a key rate of 2.35% by end-2021
Norges Bank hiking rates is an important fundamental trigger for the next leg lower in the overvalued EUR/NOK, analyst Kristoffer Kjaer Lomholt says
In June, Norges Bank said a much stronger NOK is now justified, suggesting the currency has gone from being an argument against rate hikes to an argument for faster hikes
Targets EUR/NOK at 9.40 in one month, 9.20 in three months, 9.20 in six months and 9.10 in 12 months
Norges Bank will hike by 25bps and revise upward its interest-rate forecast to suggest two to three hikes in 2019, analysts including Ostnor say
While a re-pricing of Norges Bank could take EUR/NOK down to the lower end of this year's trading range amid a stretched short krone positioning, a weak risk sentiment will likely trump strong fundamentals, keeping the krone firmly on the back foot
DNB forecasts EUR/NOK at 9.60 in one month, 9.50 in three months and 9.30 in 12 months
Expect Norges Bank to keep a 50% probability of an additional hike in December, with the path signalling almost four more hikes before year-end 2019 compared to a little less than three currently, economist Erik Bruce says
If the central bank removes the probability of a December hike but still adds one hike in 2019 the market outcome is more uncertain; December FRA could drop slightly, but it's possible that the upward revision to 2019 will mean somewhat higher longer forward rates and stronger NOK
Nordea sees EUR/NOK at 9.50 by year-end, 9.15 by mid-2019 and 9.00 by end-2019