In Newport Beach, Per-Capita Income Is Close to the Price of a Porsche
(Bloomberg) -- Welcome to Newport Beach, California, where the dollars earned for every man, woman and child totals about the price of a Porsche.
The coastal city in Orange County has a per-capita income of $97,597, comparable to the price tag on a new Porsche 911 Carrera. Newport Beach's average income is nearly three times that of the entire state of California, earning the top spot of any other city or county in the state with a population of more than 65,000, according to the U.S. Census Bureaus' 2017 American Community Survey.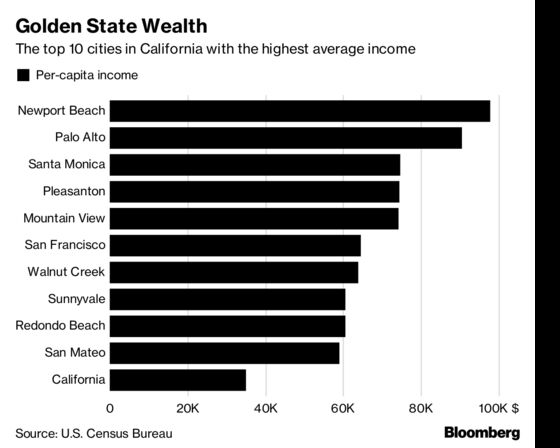 Newport Beach has the lead over Silicon Valley's Palo Alto, a spot its retained since 2016. Palo Alto's per-capita income is $90,597, earning second place, while next-in-line Santa Monica has an average income of $74,720.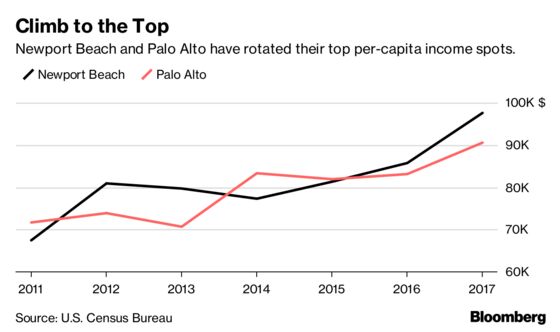 Compare these figures with property values, and the numbers may not be as surprising. One in seven California homes cost more than $1 million, according to the report. In Mountain View, California, which took fifth place on the average income list, 75 percent of homes cost more than $1 million. The median value of a home in Palo Alto exceeds $2 million, while those in Newport Beach are not far behind at $1.9 million. About 1/3 of homes in Newport Beach are mortgage free as well.
Newport Beach would rank among the highest in the world in per capita income if it were an independent country.