JPMorgan Asset Sees Room for Investors to Stay in Risk – For Now
(Bloomberg) -- Investors bracing for the next global market slump can afford to stick it out in riskier assets for at least another year -- but it also doesn't hurt to keep an eye on the exits, according to JPMorgan Asset Management.
While the prospects of a U.S. recession coming in the next 12 to 18 months are low and it still makes sense to maintain a "pro-risk allocation" in portfolios for now, investors should be prepared to shift quickly into defensive dividend stocks and long-duration, developed-market government debt when the markets turn, said Tai Hui, chief market strategist for Asia with JPMorgan Asset in Hong Kong.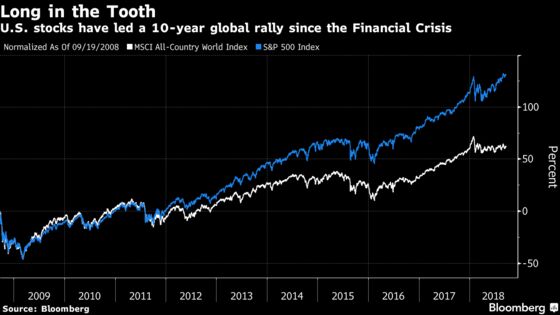 "This could run a lot longer, because we still have a lot of growth momentum in the global economy," Hui said in an interview Tuesday.
When the turmoil starts, here are some of Hui's thoughts on how to cope:
Investors with 50-50 allocations in stocks and fixed income should consider cutting equity to as little as a third, and ramp up in bonds.
Within developed-market debt, he suggests U.S. government bonds over Europe.
Smaller markets including Australia and Canada can offer more attractive yield.
In stocks, Hui highlights Europe, emerging markets and Asia-Pacific as regions with higher dividend yields than the U.S.
Telecommunications, utilities and some financials names should be considered in equities.
Turning to the year's dramatic flattening in the U.S. yield curve, and speculation about a potential inversion -- where two-year rates surpass 10-year ones, as has happened ahead of past recessions -- Hui put emphasis on extended timelines.
"If you look at the last seven inversions, from inversion to the peak of the S&P 500 it's on average eight months," he said. "And from S&P 500 peak to recession is another six months to go. So there's a lot of variations that overall give sufficient time for investors to review their portfolio and readjust."
He cautioned that now's not the time to be shifting to longer duration, given that current inflation-adjusted yields on 10-year Treasuries are low, at around 0.7 percent. "A much more reasonable level to go will be when real yields are around 1.5 percent."
One wildcard for investors heading into the next recession is that central banks will probably have much less traditional firepower, given historically low levels for policy rates.
"This will be the first downturn since the financial crisis. We don't know how well central banks can respond to the next downturn in terms of their ammunition," Hui said.