Brussels Edition: Bracing for Bannon
(Bloomberg) -- Welcome to the Brussels Edition, Bloomberg's daily briefing on what matters most in the heart of the European Union.
After managing a campaign that catapulted Donald Trump into the White House, Steve Bannon is bringing his services to Europe this week. The propagandist of populism embarks on a roadshow aimed at organizing a loose alliance of nationalist leaders and parties to help them secure enough votes in May's European Parliament elections to block further integration policies. "The Movement" seeks to unite like-minded groups across the European Union on a basic set of principles, building on existing divisions over migration which will surely again be laid bare at an informal summit of the bloc's leaders kicking off today in Salzburg, Austria.
Global Nationalism | The Movement will provide data, polling and social media support, and act as a coordination center for populist parties, Bannon and Mischael Modrikamen, the Belgian lawyer who will managing the organization from Brussels, said in separate interviews. It aspires to become "the voice of the ordinary people ignored by elites," Modrikamen told us from the headquarters of the Movement — located in a mansion with a pool in a bourgeois Brussels suburb.
Election Interference | Whether Bannon can recreate his earlier influence remains to be seen. But EU leaders (at least the mainstream) take the threat of leveraging social media to upend elections seriously. "Resilience in cyberspace" will be among the topics of discussion in Salzburg tomorrow, following European Commission proposals to protect EU elections from unlawful interference, made against the backdrop of the Cambridge Analytica scandal and allegations of Russianmeddling.
Migration Menu | Over dinner tonight in the home town of Mozart, EU leaders will chew over migration and listen to a short presentation by Theresa May of her views on the state of Brexit talks. While no breakthroughs or decisions in writing are expected, leaders will look for ways to transform the product of their summer brainstorming (including disembarkation platforms) into reality. Meantime, negotiations on revamping the bloc's asylum policy remain stalled. According to a senior EU official, Salzburg may be where we witness a shift of Angela Merkel to the right, as she seeks to stem the tide of populists that threaten her domestically.
Danish Laundering | We may be about to find out just how much dirty money made its way through Danske Bank and whether the CEO will be allowed to stay on, given the scale of the scandal. Danske, which is due to release an internal report on the subject on Wednesday, is just the latest in a string of prominent laundering cases in Europe, raising serious questions about the bloc's ability to fight such crime.
Bankers in Union | A chorus of voices are calling out this week for a deeper banking union, but few are saying what exactly needs to happen. Deutsche Bank's Christian Sewing and German Finance Minister Olaf Scholz both suggested that big bank mergers won't go ahead unless harmonized rules pave the way. They left open how to get there, since Germany's continued reluctance to sign up to a common Europe deposit insurance scheme has proven one rather large hurdle along the way.
Car Troubles | Germany's beleaguered car industry faces another regulatory tangle, as the European Union opened a probe into Volkswagen AG, Daimler AG and BMW AG over suspected collusion that could have delayed clean-emissions technology for cars. The EU said it had no indications that the carmakers coordinated on illegal devices to cheat.
Italian Balance | Italy's Finance Minister Giovanni Tria spelled out his fiscal balancing act as the clock ticks down toward the government's much-anticipated budget. Speaking at a Bloomberg conference in Milan, Tria said he wanted to reduce the income-tax burden and improve social protections for the poor. But he also said he's aiming for a "manageable budget impact" with an emphasis on more public investment. Back in Rome, there were more reports of an increasingly tense stand-off with Five Star over spending. 
Fort Trump | As the spat between Warsaw and Brussels deepens, with the EU Commission last night threatening to sue Poland over a controversial law revamping its Supreme Court, relations between Donald Trump and the Polish government couldn't be better. After a meeting at the White House yesterday, Trump said the U.S. is looking "very seriously" at establishing a permanent military base in Poland. Polish President Andrzej Duda said it would be named "Fort Trump."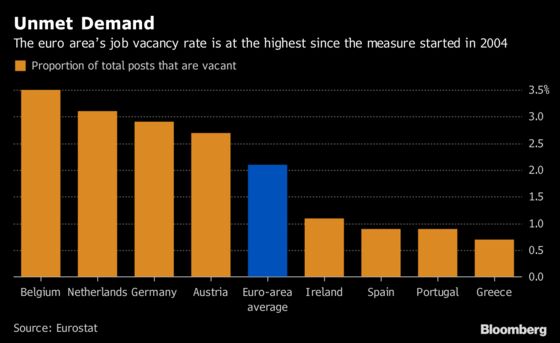 After more than five years of unbroken economic growth in the euro area, some companies in the region are finding it harder to fill positions. The job vacancy rate held at 2.1 percent in the second quarter — the highest since Eurostat started publishing the measure in 2004. The reading chimes with other indicators: unemployment is at the lowest since 2008, while labor costs are increasing at the fastest pace for six years.
~9:30 a.m. EU top court rules in case raising questions about how Brexit affects U.K. powers in issuing extradition requests under the European arrest warrant system
~9:30 a.m. EU top court rules in an appeal by the European Commission against the annulment of a decision in which it had found a guarantee granted to the French Petroleum Institute by France was illegal state aid
College of EU Commission convenes. EU's chief Brexit negotiator Michel Barnier to brief Commissioners
4:15 p.m. EU Budget Commissioner Guenther Oettinger speaks at EESC event on bloc's next multiannual budget
6:40 p.m. Informal European Council meeting in Salzburg, to discuss migration and Brexit over dinner; the European People's Party holds a meeting ahead of the summit