BlackRock Goes Long Italian Bonds on 'More Reasonable' Politics
(Bloomberg) -- The euro-area's worst-performing government bonds now have the backing of the world's biggest money manager.
BlackRock Inc. has switched to a long position in Italy from a neutral stance on increasing optimism the nation's politics is moving "toward a much more reasonable outcome," according to Scott Thiel, deputy chief investment officer for fundamental fixed income.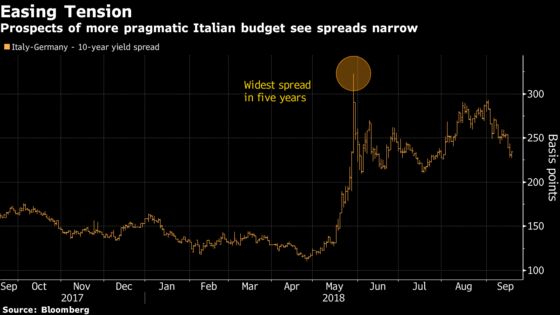 "The Italian situation seems to us to be moving toward a more positive market-friendly outcome, whether it's the political environment, government target," London-based Thiel said. "There will be some noise related to that, but Italy still offers some attractive returns for European investors, particularly if you look at the valuations of other peripheral markets."
Italian bonds have been beset by increased volatility in recent weeks amid fears over whether the country's new populist government will breach the European Union's deficit limit of 3 percent of economic output at its budget. Italy's leaders have been whipsawing markets and the EU with contradictory statements all summer.
The yield spread between Italian 10-year bonds and German bunds surged to 323 basis points on May 29, the widest in more than five years. The gap has since narrowed to around 230 basis points as investors became more confident that the coalition will adopt a more prudent approach when it announces its budget at the end of this month.
Italian bonds climbed Tuesday, pushing the 10-year yield to 2.75 percent, the lowest level since Aug. 1. The rally came after the securities had declined earlier in the session on reports that Deputy Prime Minister Luigi Di Maio clashed with Finance Minister Giovanni Tria over budget proposals. Still, the yield has jumped 81 basis points this year, the biggest increase among euro-area peers, and was at 2.83 percent Wednesday.
Thiel said BlackRock, which oversees more than $6 trillion in assets globally, had been "pretty dynamic," having been short Italian bonds earlier this year on concern about how the unwinding of the European Central Bank's asset-purchase program would hurt peripheral debt. The company maintained that position after Italy's inconclusive election in March.
While investors still need to be cautious about the volatility triggered by Italy's political headlines, Thiel said now the two parties seem "much more conscious" on the need to implement their policies within the EU's framework.
"They have to be true to their mandate but they also recognize that being too radical on one end can also obviously be very negative for the country," he said.