Zimbabwean Inflation Quickens to Highest Rate in Almost 7 Years
(Bloomberg) -- Zimbabwe's inflation rate rose to the highest in almost seven years in August as food-price growth quickened.
Consumer prices increased 4.8 percent from a year earlier, the Harare-based Zimbabwe National Statistics Agency said in an emailed statement Monday. That's the highest rate since December 2011. Inflation for food and non-alcoholic drinks quickened to 7.5 percent from 6.3 percent.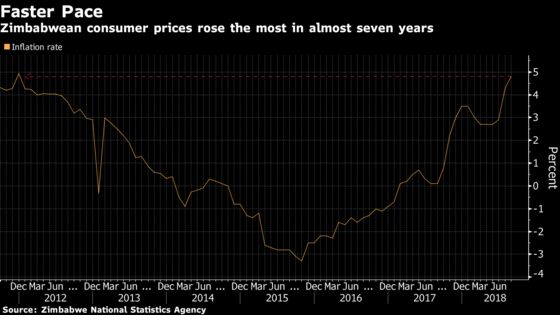 The southern African nation relies mainly on the U.S. dollar since scrapping its own currency in 2009 to halt hyperinflation that saw prices double every day. The new finance minister, Mthuli Ncube, said he favors the return of the Zimbabwean dollar.