Rebounding Qatari Stocks Shine in 2018 While Dubai Stocks Falter
(Bloomberg) -- When it comes to their Gulf stock-market rivalry, Doha is easily outshining Dubai.
The main Qatari equities index is 2018's best performer worldwide in dollar terms, up 15 percent. Earlier this year, it recovered all the losses caused by Qatar's diplomatic standoff with a group of countries including the United Arab Emirates and Saudi Arabia that began 15 months ago. In bleak contrast, Dubai stocks are languishing at their lowest level since January 2016 after falling 19 percent this year.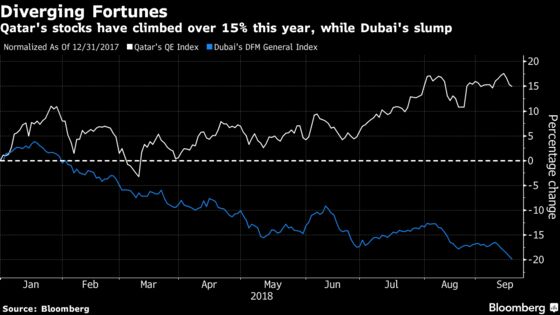 Qatar responded to the spat with steps to entice investors. Several companies have allowed increased foreign ownership, while the country has made permanent residency an option for some non-nationals. A minister even described the embargo as "a blessing" for the gas-rich nation, with exports and global trade rising. The U.A.E. has taken steps of its own to stimulate its economy at a time of dropping Dubai real-estate prices and faltering demand, but these efforts are yet to reflect in stock performances.
"Qatar is moving in the same direction, in a faster manner," said Joice Mathew, the head of equity research at United Securities who covers Gulf companies out of Muscat in Oman.
Large-cap stocks in Doha surged earlier this year amid prospects of inflows from investors tracking emerging-market indexes after the relaxation on foreign ownership curbs, adding to improving prospects for banks and petrochemicals. In Dubai, real-estate shares have put the most pressure on the benchmark index as rentals and sale prices drop amid weaker domestic demand.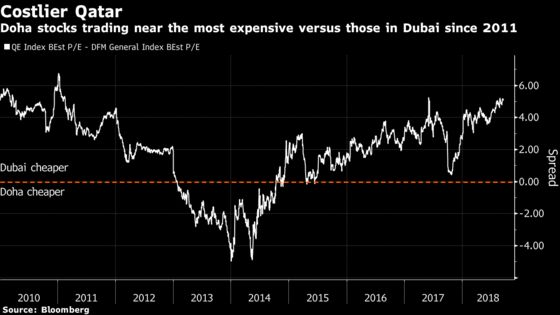 While the standoff shows no sign of ending, the valuation gap between shares in Doha and Dubai keeps widening. The estimated price-to-earnings ratio for shares in the emirate in the next 12 months is 7.2 times, compared with 12.3 times in Qatar, near the widest gap since 2011.
"Despite the embargo and the geopolitical challenges, Qatar has adapted," said Talal Samhouri, head of asset management at Doha-based Amwal LLC. "It looked at itself as an island and worked diligently to reshape itself and its economy."