Pound Optimism Returning as Analysts See Gains Against the Euro
(Bloomberg) -- Pound bulls have taken heart from the currency's recent price action and are lining up to recommend investors should bet on sterling against the euro.
The U.K. currency has gained about 2 percent after hitting its weakest level versus Europe's common currency in almost a year last month, amid mounting optimism that the two sides in the Brexit talks are committed to signing a deal by November. Analysts at banks including Nomura International Plc, Nordea Bank AB and ING Groep NV see the currency climbing further as the U.K. and European Union work toward finding a way to break the current deadlock.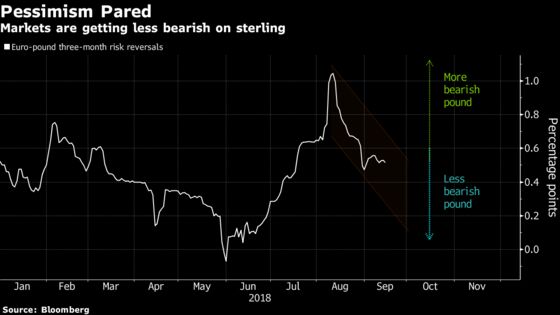 This week could see more Brexit-driven volatility, as European affairs ministers meet to discuss Brexit on Tuesday, followed by a meeting of the region's leaders later in the week to try and advance the negotiations. Sterling price swings on the one-month tenor remain among the highest between Group-of-10 currencies, but analysts are taking the recent headlines as indicative that the two sides in the Brexit talks are more open to compromise.
"Recent news is consistent with our view that the deadlock in negotiations can be broken by keeping some aspects of the Brexit end-state ambiguous in an eventual deal," said George Cole, an analyst at Goldman Sachs Group Inc. The exchange rate of 90 pence per euro, about 1 percent lower than Friday's levels, "remains the tipping point for us beyond which we would enter into pound longs," Cole said.
With the pound strengthening against the euro for a third week, options also show a dip in sterling pessimism. Still, the median estimate in a Bloomberg survey sees the currency close to current levels at 89 pence per euro by year-end, while Nomura forecasts a much more optimistic 85 pence.
Data due this week could further shore up sterling, according to Nordea. Analysts including Andreas Steno Larsen wrote in a research note that the retail-sales numbers scheduled Thursday look especially promising, adding that "in any other case than a cliff-edge Brexit scenario, we consider the pound very cheap."
In terms of Brexit, the pattern in the talks so far shows that last minute deals can be made, according to Nomura analyst Jordan Rochester. Such a compromise could come in October, or at a potential one-off summit in November. The EU may even want to give U.K. Prime Minister Theresa May something to "sell back home" in time for her Conservative Party's conference at the end of September, the analyst added.
"It will be a rough ride but the end outcome is a stronger pound if the tail risks are avoided," said Rochester. "It's best to capture that rather than sit on the sidelines."