Brake Maker Pursues IPO Without a Lot of Bumps
(Bloomberg Opinion) -- The next big IPO coming down the track in Europe could scarcely be accused of rushing into it. Brake maker Knorr-Bremse AG, founded in 1905, laid out plans Monday for an initial public offering in Frankfurt before the end of the year. This is a well-established business with barely any debt and no obvious requirement for equity as an acquisition currency. It just needs some new owners.
Knorr's controlling shareholder and former CEO Heinz Hermann Thiele is not getting any younger and has concluded that stewardship of the company for the longer term requires the involvement of institutional investors. The invitation is likely to be well received.
The company straddles two brake markets, for trains and trucks, making it look like a European combination of U.S. peers Wabco Corp. and Wabtech Holdings Inc. This market evidently has high barriers to entry. Knorr, which generated 6.2 billion euros ($7.2 billion) in revenue last year, estimates it has about half the market in braking systems for trains and more than 40 percent in pneumatic braking systems for commercial vehicles. Its operating margin is around 15 percent.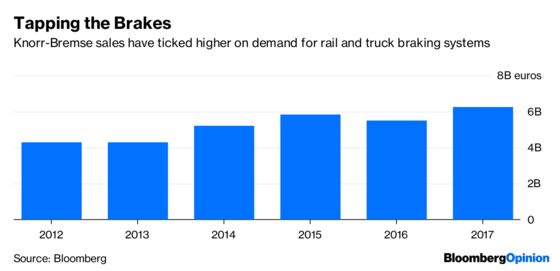 While Knorr is mature, it still has growth prospects. It is targeting annual organic revenue expansion of about 5 percent in the next three or four years. After-market sales makes up about one-third of the business. The diversification, repeat revenue and commanding market positions help explain the company's durability.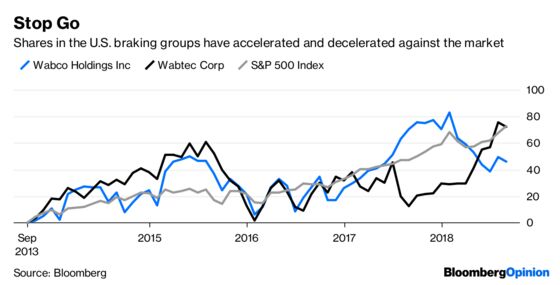 Assume Ebitda next year nudges up to 1.2 billion euros, extrapolating from last year's 1.1 billion euros. Wabtech and Wabco trade at 13 and 9 times 2019 Ebitda, respectively. Knorr's higher margins and more balanced business model could justify a premium valuation, closer to European engineers like Assa Abloy AB, Schindler Holding or Kone Oyj. Even with an IPO discount it's not hard to reach an equity valuation of 13 billion euros or more given that the company is practically debt-free.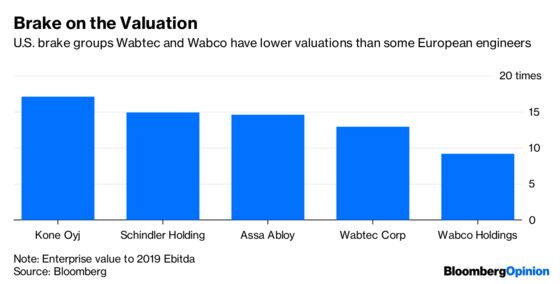 If 30 percent of the company is sold, the offering would be around 4 billion euros worth of stock — the biggest in Europe this year after Siemens Healthineers AG. That's a lot of buyers to find.
Investors need to be wary of two risks. One is the possibility of M&A. Knorr may not need equity to do deals and hardly needs to chase market share, but it is acquisitive, having tried and failed by buy smaller Swedish peer Haldex AB last year. With a minority position, investors won't be able to rein in management if it decides to pursue something pricey.
The other question is future governance. There is no stated plan for Thiele to sell below 50 percent. The likelihood is that the stake ends up being controlled by a family foundation whose governance, character and goals investors cannot know right now. But given Knorr's record, who wouldn't want to go along for the ride?
This column does not necessarily reflect the opinion of the editorial board or Bloomberg LP and its owners.
Chris Hughes is a Bloomberg Opinion columnist covering deals. He previously worked for Reuters Breakingviews, as well as the Financial Times and the Independent newspaper.