Gap Grows Between What Investors Want, And What Egypt Offers
(Bloomberg) -- Egypt has managed to stay under the radar throughout the emerging-market rout, but that doesn't mean its assets are unscathed.
The nation canceled three consecutive Treasury bond auctions -- latest of which was Monday -- after investors asked for "unrealistic" yields. Demand for Egyptian debt across maturities has weakened in August and September compared to the average of the preceding 13 months, central bank data show, even though the currency has been relatively stable this year. That has spurred an increase in yields across the board.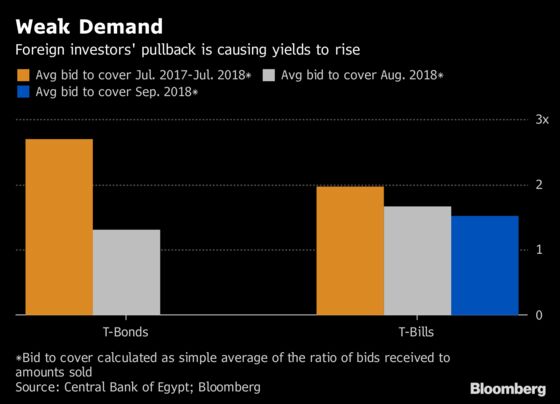 The nation needs to figure out how to keep its debt attractive or else it risks seeing its yields rise further, which would make the government's plans to cut its deficit even more challenging. Central to that may be holding interest rates stable in the long-term, despite inflation being on target, said Mahmoud El Masry, an economist at Pharos Holding in Cairo. Egypt's Monetary Policy Committee meets on Sept. 27.
The yields on one-year T-bills have risen by about 160 points since the beginning of the year despite a 2 percentage-point cut in benchmark rates. The government last sold one-year and six-month notes on Thursday at a pretax rate of 19.296 percent and 19.501 percent, respectively.
On Sunday, the government sold 4.8 billion pounds worth of 9-month T-bills -- nearly 60 percent of the 8 billion it had offered -- with the average yield rising 12 basis points to 19.757 percent.
Analysts have said the spillover from the emerging markets rout prompted foreigners to sell Egyptian debt, helping push up yields. There could be a flip-side, however. Ahmed Badr, CEO for the Middle East and North Africa at Renaissance Capital, told Bloomberg TV in an interview that higher returns could make Egypt attractive to foreign investors once again.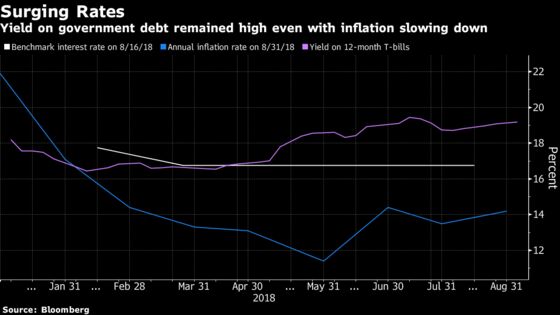 "If anything, I think in the short-term, it's actually positive for the yields to remain" as they are, Badr said.