Countdown to Italy Budget Sees Investors Getting More Confident
(Bloomberg) -- With 10 days to go before Italy's ruling coalition presents new fiscal and growth targets, bond investors are staying the course, and the latest price action suggests they may be rewarded.
Janus Capital Group Inc., Franklin Templeton Investments and Fidelity International are among funds ignoring the noise around the country's fractious politics, and buying Italy's debt on the judgment that too much risk is priced in. Italian bonds jumped Monday, led by gains in shorter-dated maturities, on a report of a more prudent budget target.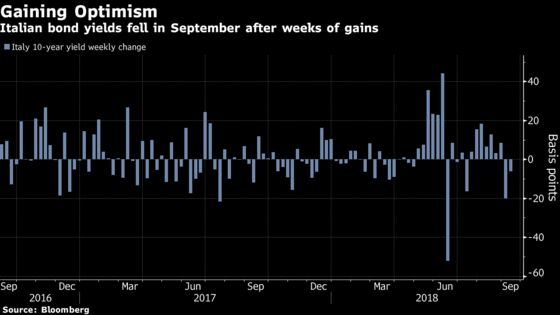 The wider market has started ditching anxiety in the last two weeks, with yields having shaved off more than 30 basis points after climbing to the highest since May. An increasing number of banks expect further gains in the debt, following pledges by Finance Minister Giovanni Tria and deputy prime ministers Luigi Di Maio and Matteo Salvini to stick to European Union rules.
"I have been buying 10-year exposure this month. A relaxation of the deficit rhetoric has been a positive tailwind," said Ryan Myerberg, a portfolio manager at Janus, which oversees $370 billion. He was previously only buying shorter tenors.
"The trinity of Di Maio, Salvini and Tria have all generally taken a more conciliatory stance or used more conciliatory language, and given that Italian bonds had been pretty under-owned it set up nicely for a short-covering rally," he said.
Italy's markets have seen tumultuous swings in recent months as coalition partners have jostled over extravagant spending plans. Government officials have since then tried to reassure investors that they'll adhere to adopting a budget below 3 percent of GDP, with Italian debt rallying further Monday on a Corriere della Sera report that the 2019 budget will be held at 1.6 percent.
New fiscal targets are expected to be set on Sept. 27 and presented to parliament, followed by a draft budgetary plan, which must be submitted to the European Commission by Oct. 15.
"The market has shown the Italian government exactly what could happen if they go too far away from the budget targets that the EU has set," said David Zahn, who oversees Franklin Templeton's European fixed-income strategies totaling over 2 billion euros ($2.3 billion).
Zahn says his European Total Return fund has been overweight Italian bonds since late July. Fidelity, with $310 billion of assets under management, has been in and out of Italian bonds over the summer, and increased its exposure in the summer to corporate bonds, according to investment director Andrea Iannelli.
"We do think that some discipline will prevail despite the noise that we have seen from various factions within the Italian government," Iannelli said. "Italian government bonds ultimately will handle this OK -- they will weather the storm."
Several banks have recently joined in on the optimism. Morgan Stanley and NatWest Markets both recommended buying Italian bonds last week, with the latter pushing "aggressively long" positions in the nation's five-year bonds as market sentiment improves. Two-year yields slid 11 basis points to 0.76 percent Monday, while those on 10-year bonds fell eight basis points to 2.90 percent.
Ten-year yields climbed from a five-week low last week as rumors emerged that the country's Tria had threatened to resign amid pressure from being caught in the middle between two coalition partners. Those were later denied by the finance ministry.
"Tria has acquired a very considerable market value for the country," former Premier Mario Monti said in a Bloomberg Television interview last week, adding that he doesn't think Tria will resign. "I think they will continue to disturb him in terms of wanting more deficit, but he's stubborn enough."