Brussels Edition: Democracy and Its Discontents
(Bloomberg) -- Welcome to the Brussels Edition, Bloomberg's daily briefing on what matters most in the heart of the European Union.
It was International Day of Democracy on Saturday and — judging by the unprecedented number of ongoing EU probes — democracy in the bloc has seen better days. After the excoriation of Viktor Orban's "illiberalism" in the European Parliament, tomorrow it's Poland's turn to explain whether or how it will address the European Commission's allegations of undermining democratic standards. They're not the only ones: an EU Parliament Civil Liberties Committee delegation visits Malta and Slovakia to "look into the situation of rule of law, corruption and safety of journalists." 
Popular Populists | While support for mainstream leaders, including Angela Merkel in Germany and Emmanuel Macron in France, falls to record lows, the popularity of firebrand challengers is surging. According to the latest poll commissioned by La Repubblica, the approval rating of Italy's populist coalition has climbed to a record high of about 62 percent.
Forced Out | The Italian coalition is making the most of that support. It drove the head of the nation's stock market regulator from office, saying his ties to "international finance" made him unfit for the role. In Greece, when a respected scientist published a report criticizing the government's handling of a wildfire that led to the death of 99 people, a minister posted the alleged address and a photo of the academic's house on Facebook, warning him about "electrocution" risks. 
Fiery Language | Nothing gets EU leaders more worked up these days than immigration. On Friday, Luxembourg Foreign Minister Jean Asselborn turned on Italy's Deputy Prime Minister Matteo Salvini, cursing at him during a meeting of the bloc's interior ministers. Salvini appeared to enjoy the quarrel and posted the video clip of the exchange on Facebook. That doesn't bode well for Wednesday, when EU leaders discuss migration over dinner in Salzburg.
Socialist Hopeful | Maros Sefcovic, vice president of the European Commission in charge of energy union, told Slovak TV that he will formally announce today he has the support of nine European socialist parties to become lead candidate (Spitzenkandidat) of the Social Democrats for the presidency of the European Commission. He's due to make a statement at 9:30 a.m. Pierre Moscovici, the other Commissioner interested in running for the center-left, is still reflecting. He has time, as bids aren't due until Oct. 18.
London Calling | The mayor of London, Sadiq Khan, joined those calling for a second Brexit referendum this weekend, heaping more pressure on Labour leader Jeremy Corbyn to come off the fence ahead of his party's annual conference next week. In the meantime, Theresa May gave a steadfast defense of her plans for Britain's departure in the face of growing momentum against it among euroskeptic Tories. 
Luxembourg Prep | Whether there's a Brexit deal or not, London bankers can at least rest assured that Luxembourg is ready to welcome their offspring, should they decide (or be forced) to move to the Grand Duchy next year. Luxembourg's schools can teach the U.K. a thing or two when it comes to preparing for Brexit, Stephanie Bodoni reports. 
Summertime Populism | In his annual State of the Union address last week, EU Commission President Jean-Claude Juncker warned again about the dangers of populism. But the legislative initiative of the Commission to stop seasonal clock changes has a populist quality of its own, Jonathan Stearns reports. 
Game On | The world's biggest app stores are facing increasing pushback from developers over the high costs they charge for connecting their games with users — and new gaming platforms are looking to swoop in. Tallinn-based Ultra will take 15 percent of sales it generates through its digital store, which is half of what the industry-leading platform charges.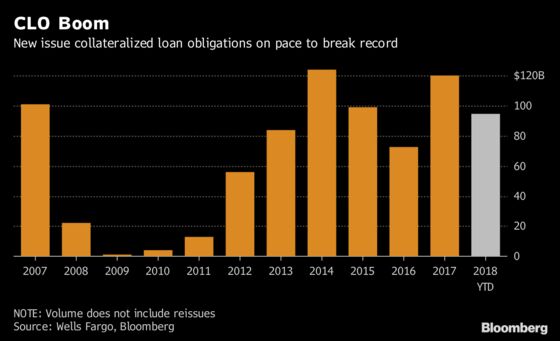 The collapse of Lehman Brothers, almost exactly 10 years ago, has consigned some financial products, popularized by their acronyms, to the dustbin of history. But a new alphabet soup of securities is now back on the table. These days, money managers are piling into leveraged loans, via securitized structures known as CLOs (collateralized-loan obligations). As demand outstrips supply, safeguards and protections are weakening.
9:30 a.m. Press point by Maros Sefcovic, vice president of European Commission
11:00 a.m. Eurostat to release August inflation and second-quarter job vacancy readings for the euro area
12:15 p.m. ECB Executive Board member Peter Praet delivers a speech on "Economic developments in the euro area" at Société Royale d'Economie in Brussels
European Parliament Civil Liberties Committee delegation visits Malta and Slovakia from Monday to Thursday to look into democratic conditions
Single Resolution Board Chair Elke Koenig speaks at regulatory meeting organized by the Basel Committee on Banking Supervision in Basel 
European Commission President Jean-Claude Juncker participates in a dinner in Bucharest ahead of the Three Seas Initiative Summit
European Commission VP Valdis Dombrovskis in Beijing to meet Liu Kun, Minister for Finance of China, Liu Shiyu, Chairman of the China Securities Regulatory Commission, and Paul Chan-Mo-po, Financial Secretary of Hong-Kong Special Administrative Region
EU chief Brexit negotiator Michel Barnier visits Spain to meet Prime Minister Pedro Sánchez as well as Josep Borrell, Minister of Foreign Affairs and Reyes Maroto, Minister of Industry, Trade and Tourism
Like the Brussels Edition?