Brexit Bulletin: First of Three
(Bloomberg) -- Today in Brexit: A European summit this week is the first of three key meetings where leaders will chart the path to a divorce deal.
U.K. Prime Minister Theresa May heads to Salzburg on Wednesday for the first of three summits with her European Union counterparts where the Brexit deal will slowly start to be sealed. Both sides are plotting the endgame, and while there are obstacles, the outline of a deal is in sight. Salzburg is just a "staging post," according to the British side, but it will be the first time EU leaders have sat down to discuss Brexit since June.
EU diplomats reckon they have to wait until after the U.K.'s party conference season for May to be able to make the concessions that are needed to get a deal. Euroskeptics in May's party are set to give her a hard time at the conference – led by former Foreign Secretary Boris Johnson, who is launching weekly attacks on the premier.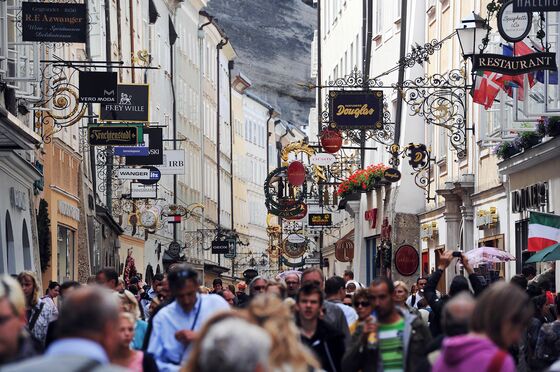 But signs of progress are emerging. There's some movement on the issue of the Irish border, which has dogged talks from the start. We reported last week that the EU is redrafting its proposal for avoiding a hard border, and the U.K. has handed over the data that the EU says it needs to do so. There's a new idea for a fix that could help May to sell it at home, the Financial Times reports on Monday.
Crucially, the U.K. is prepared to postpone some of the most difficult decisions about the future relationship, and so is the German government – in order to get a deal over the line. The declaration on the future relationship will be vague – and the aim is to make it as helpful as possible to May. EU diplomats are leaning toward writing "whatever suits Britain politically to get us across the line," according to one diplomat.
That's because the biggest risk to a deal is now the battle back home once the divorce agreement is reached. May got the backing over the weekend of the two most important Brexiters left in her Cabinet – Trade Secretary Liam Fox and Environment Secretary Michael Gove. And as her office tries to bring euroskeptics onside to make sure as many Tory lawmakers as possible vote for the deal later this year, May issued a warning on Sunday that she's ready for a fight, and is plotting her strategy carefully.
"There's a difference between those who think you can only be bloody difficult in public, and those who think actually you bide your time, and you're bloody difficult when the time is right – and when it really matters," she told the BBC.
EU chief negotiator Michel Barnier is considering a compromise on the Irish border to unlock talks, the Financial Times reports. It would include British officials, rather than European ones, checking goods bound for Northern Ireland at mainland British ports. It's not clear if the British side will agree.
Boris Johnson used his Monday Telegraph column to attack May's Brexit plan as a "car crash," that would leave Britain as a member of the bloc in all but name, taking rules from Brussels. His language was even stronger than usual.
Second Referendum | Mayor of London Sadiq Khan called for a public vote on a Brexit deal, saying the divorce poses a threat to living standards, national security and business. Khan has long opposed the Labour leadership's views on many issues, but his call for a second referendum adds to the pressure. The party is set to debate the merits of another vote at its annual conference next week.
Moving to Frankfurt | UBS Group has picked Frankfurt as its post-Brexit EU hub and has made preparations for the worst-case scenario of Britain crashing out without a deal, CEO Sergio Ermotti said in a Bloomberg interview. It will use a multi-location strategy in the region, naming offices also in Madrid, Paris and Milan. "The financial system is already operating on the assumption that there is no agreement," Ermotti said. 
Moving to Luxembourg | The Grand Duchy's campaign to lure bankers from London has something new to offer: schools for expats' offspring. Starting on Monday, parents will be able to send their children to one of four recently opened free state schools offering whole departments delivering an English-language curriculum, with the added bonus of teaching French or German, Stephanie Bodoni reports.
Moving Assets | Deutsche Bank has scaled up plans to shift "hundreds of billions of assets" from London to Frankfurt after coming under increasing pressure from European regulators over the size and complexity of its U.K. operations after Brexit, the FT reports.
Moving Targets | The British Chambers of Commerce lowered its forecast for the U.K. economy for the next two years, citing a weaker outlook for trade and investment on uncertainty over Brexit. It expects growth of 1.1 percent this year, down from a previous forecast of 1.3 percent, and cut its 2019 outlook to 1.3 percent from 1.4 percent.
Going Soft on the Rock | Spain will push for a special chapter in the Brexit agreement on Gibraltar, including tax evasion and smuggling, but won't press the sovereignty issue, El Pais reports. Foreign Minister Josep Borrell told Bloomberg last week that Gibraltar wouldn't hold up a deal. 
On the Markets | The pound stayed above $1.30 in early trading on Monday, after breaking through that barrier last week as hopes rose for a Brexit deal. Analysts are increasingly optimistic and are lining up to recommend traders bet on sterling against the euro, Charlotte Ryan writes.
Want to keep up with Brexit?