Arrests Spark Selloff in Egypt, Pacing Mideast Losses: Inside EM
(Bloomberg) -- Egypt's main stocks index dropped the most since January 2017, leading declines among Middle Eastern markets on Sunday.
The selloff followed the detention of former President Hosni Mubarak's two sons, as well as that of EFG-Hermes's non-executive vice chairman and Citadel Capital SAE's investor relations head in a case linked to stock market manipulation. In Dubai, the equities gauge fell to the lowest level since January 2016 after breaching a resistance level.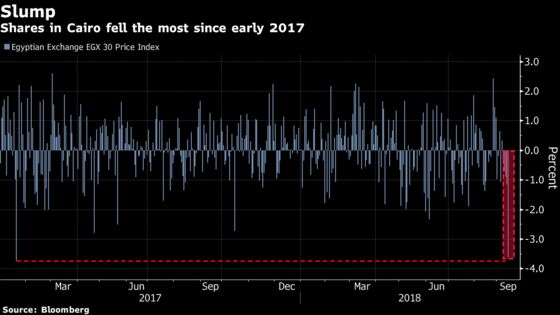 The stock manipulation case created "a bad sentiment in the market," said Tarek Abaza, chief executive officer of Naeem Brokerage in Cairo. "Investors are in a selling mood and the volumes are low -- any negative news is merely an excuse for a fall."
EGX 30 declines 3.6% to the lowest since February

Extends its loss in the past five sessions to 6.6%
26 index members fall, four are unchanged, none climb

EFG-Hermes drops 8.6%, the most since November 2012, after Yasser El Mallawany was detained over the weekend in the case related to stock market manipulation. The company said in a statement it isn't a party to the case and its operations are not impacted
Citadel, also known as Qalaa Holdings, falls 6% after the company said its investor relations head Amr Al Kadi was arrested in connection with the same case

"Investors are concerned about the re-opening of the bourse manipulation case and it's impacting the sentiment in the market," says Seif Attia, head of local sales at Pharos Securities Brokerage

READ: Egypt Public Prosecutor Says Mubarak Sons Referred to Trial (1)
Global Telecom Holding falls 4.5% after saying a deal with Pakistan's Tanzanite was terminated
Other stocks down: CIB -2.1%; Eastern Tobacco -6.1%; Abou Kir Fertilizers -5%
OTHER MIDDLE EAST MARKETS:
Saudi Arabia's Tadawul All Share Index falls 1.6%, extending its losing streak in the past five sessions to 3.4%

14-day RSI drops to 20.1, the most oversold level in over a month
Saudi Kayan falls 8.4%, the most since September 2016
Banks also decline: Al Rajhi Bank -2.3%; NCB -2.9%; Samba Financial Group -3.3%; Saudi British Bank -2.6%, Alinma Bank -1.5%
Wafa Insurance climbs 1.6% after proposing a capital increase via 220m riyals rights issue

Dubai's DFM General Index retreats 1.3% to 2,774.09

The gauge breached the 2,800 level, which was a "keenly-watched" technical support by analysts, FAB Securities analyst Shiv Prakash writes in a note

Says index headed toward 2,668 level

Emaar Properties drops 3.2% to 4.79 dirhams

Emaar "barriers will now be at AED4.90/5.00 and only a close over shall form a reversal pattern:" Prakash
Other stocks down: Emirates NBD -2.3%; Dubai Islamic Bank -0.6%; Dubai Investments -1%

Emaar Development climbs 0.2% after proposing an interim dividend of 26 fils per share, which is part of the total dividend that will be announced at the end of the financial year

Qatar's QE Index drops 0.8%, after climbing 2% last week

Doha Bank -6%; Qatar National Bank -0.8%; CBQ -2.4%, Industries Qatar -0.8%
NOTE: Index closed last week above the 10,000 level for the first time since May 2017

Israel's TA-35 climbs 1.4%, rising the most in the Middle East

Teva, up as much as 9%, contributes the most to the gauge after winning a U.S. regulatory approval to sell a key new drug for migraines treatment, seen as a key
The shares are still about 25% below the level it traded at the end of July 2017 when it cut forecast and dividends and said it could breach some debt covenants

Gauges in Oman and Abu Dhabi advance between 0.1% and 0.6%, while that in Bahrain falls 0.3%. Kuwait's was little changed
MSCI Emerging Markets Index of stocks rose 0.5% last week, trimming its loss this year to 11%

An MSCI index tracking currencies from developing economies gained 0.2% for the week, after two weeks of declines
EM Review: Lira, Ruble Lead Currency Gains on Rate Increases

Erdogan Is a Market Villain to Macri's Hero. Who Will Survive?
Hong Kong Raises Highest Signal as Typhoon Mangkhut Looms
ECB's Villeroy Sees Risks From Shadow Banking, Emerging Markets
Argentina Bonds Beat Peers as IMF Talks Drive Relief Rally
Morocco Gets $275 Million Aid From EU as Illegal Migration Rises