Brussels Edition:  Orban Unbowed
(Bloomberg) -- Welcome to the Brussels Edition, Bloomberg's daily briefing on what matters most in the heart of the European Union. 
Hungary's Viktor Orban is far from done. His castigation this week is doing little to deter him as the battle intensifies between populists and mainstream parties ahead of May's European Parliament elections. He's not just fighting plans to oust him from the European People's Party — home of Angela Merkel's Christian Democrats — but vows to establish his anti-immigrant views in the EU assembly's biggest bloc. The fight for the soul of thebbg://news/stories/PF06776VDKHT European center right has just begun, and it may determine the future of the EU.
Salzburg Meeting | Orban will get a chance to make a scene at the informal summit of EU leaders in the picturesque Austrian city of Salzburg next week, where migration and border security are the top subjects. He'll have allies, including members of Italy's populist government. Those still doubting that battle lines are being drawn on the right, should tune into a press conference by Italian Deputy Prime Minister Matteo Salvini and Austrian Vice Chancellor Heinz-Christian Strache at 3 p.m. today in Vienna. 
Dinner Tradition | U.K. Prime Minister Theresa May may get a chance to give her perspective on Brexit on the sidelines of the leaders' dinner in Salzburg on Wednesday. It's become something of a tradition for May to brief EU27 leaders, just before they get into a fight among themselves over migration. As always, she won't get a response to her presentation. 
Helping Hand | Michel Barnier will brief European affairs ministers about the state of play in Brexit negotiations on Tuesday, and the 27 leaders will also discuss the U.K. over lunch in Salzburg on Thursday. Don't expect much from the EU side before the Tory party conference at the end of September, we've been told. The bloc doesn't want to do anything to jeopardize May's position, giving her more room to maneuver. 
Draghi Waiting | Judging from Mario Draghi's answer at a press conference in Frankfurt yesterday, the ECB president has no idea what Jean-Claude Juncker had in mind when he announced the European Commission's intention to pursue measures to strengthen the euro's role as a global reserve currency. "We are really interested to see what are the proposals," Draghi said. It's not clear the Commission knows either. Work on a communication on the matter is just starting, we are told. 
Italian Words | Draghi didn't pull any punches when asked about the situation in his beloved homeland. "Words have changed many times" and "created some damage," he said about the budget back-and-forth by Italian leaders. The impact has been confined to Italian bonds with no signs of contagion in the euro area, he told reporters. "What we are waiting for now is facts," he added.  
Swedish Deadlock | The recount of Sunday's vote confirmed that Prime Minister Stefan Lofven's center-left bloc will remain the biggest in Swedish parliament. But he has no majority in the assembly, and the opposition — including the nationalists — have vowed to oust him. That means the country is up for a protracted power struggle as the biggest factions dig in. To re-purpose a quote from Donald Trump, "Sweden, who would believe this?" 
Turkish Delight | It was another day of chaos in Turkey. Just hours after President Recep Tayyip Erdogan repeated demands for lower borrowing costs, sending the lira plunging, the country's central bank appeared to defy him, jacking up rates more than expected and triggering a rally in the currency.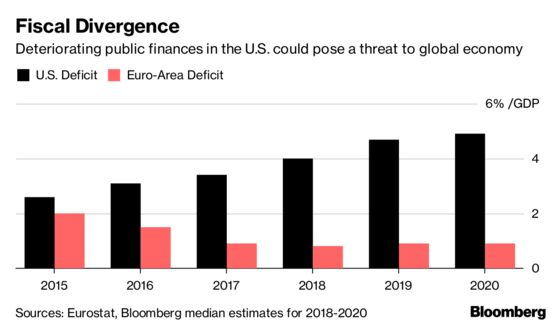 The ECB' s Governing Council "briefly" discussed yesterday how tax cuts in the U.S. could have an impact on the global economy. Policy makers in Brussels have also repeatedly raised concerns that "pro-cyclical policies" could lead to a spike in inflation and a more rapid increase in interest rates, while the U.S. won't have fiscal buffers to cushion a crisis. 
11:00 a.m. Eurostat to release second-quarter labor cost index and July international trade in goods readings
11:00 a.m. Press conference by EU Commissioners Maros Sefcovic and Violeta Bulc on the Commission's proposal to abolish seasonal time changes
12:00 p.m. Press conference by EU Commission Vice Presidents Jyrki Katainen and Federica Mogherini on a new Africa-Europe alliance for sustainable investment and jobs