Brexit Barometer Stays in Clouds in August as Job Hopes Improve
The Bloomberg Brexit Barometer firmed last month after a decline in July as the U.K. economy showed signs of picking up and concerns about a possible no-deal scenario began to ease with indications an agreement could come in November.
The barometer, which includes data for growth, labor market, inflation and other key economic indicators, rose to 34.5 in August from 29.4 in July, remaining in "cloudy" territory for a second straight month. The gain was mostly due to improved employment expectations in the U.K. retail sector, which offset softening in the hiring outlook for industry.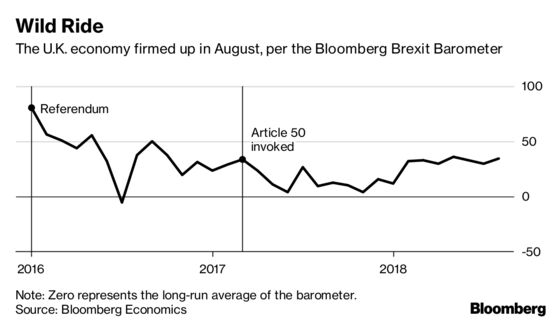 The U.K. economy maintained its momentum in August, thanks to the dominant services sector, even though manufacturing growth unexpectedly slowed to the weakest in two years on declining export orders. Still, the Bank of England said Thursday that the economy has been a bit stronger than expected and reiterated plans for limited and gradual rate increases over the next few years. It left its benchmark rate unchanged after lifting it to the highest since 2009 in August.
Inflation likely moderated last month after accelerating for the first time in eight months in July, according to a Bloomberg survey of economists. July CPI was boosted by the cost of auto fuel, transport tickets, computer games and food. The August figures will be released on Sept. 19. 
The economy made a reassuring start to the second half of the year. Growth appears to be holding up while the labor market remains tight. The gap between wage growth and inflation also continues to widen. But risks abound: Trade wars and emerging-market woes are threats to global demand while at home, Brexit talks are reaching crunch point. 
—Bloomberg economist Dan Hanson
The barometer is calculated every day with the most up-to-date data available. The monthly average, used to help smooth daily volatility, gives a better sense of the underlying trend.
Politically, November emerged as the new deadline for the U.K. to seal a divorce accord with the European Union, after anxiety about a no-deal scenario reached a crescendo in August. At the end of the month, optimism increased that the two sides will be able to come to an agreement.
U.K. Prime Minister Theresa May will have to postpone the toughest decisions in order to get the withdrawal agreement done and get it through Parliament, where she may have to rely on opposition lawmakers—a risky strategy. Rumblings of a possible leadership challenge also returned ahead of the Tory party conference, which gets under way at the end of this month.