Argentina Bonds Beat Peers as IMF Talks Drive Relief Rally
(Bloomberg) -- Argentine bonds are beating peers after facing their worst rout since 2014.
The country's dollar-denominated bonds have risen 3.6 percent this month, compared with an average 0.2 percent gain for emerging markets, according to a Bloomberg-Barclays index. The rally has pared their loss this year to 17.3 percent.
Talks to gain quicker access to a $50 billion credit line with the International Monetary Fund are showing signs of progress after the government unveiled reforms to balance the budget. The IMF said Wednesday that it had a delegation in Buenos Aires working "intensively" for a rapid conclusion. That was a day after IMF Managing Director Christine Lagarde told the Financial Times that Argentina's new austerity measures were key determinants.
"It's a correction after valuations began to look very cheap," said Carolina Gialdi, a senior fixed income strategist at BTG Pactual Argentina. "The surprise has been the magnitude in the valuation drops. If the market believes the reforms will persist, the recovery should continue."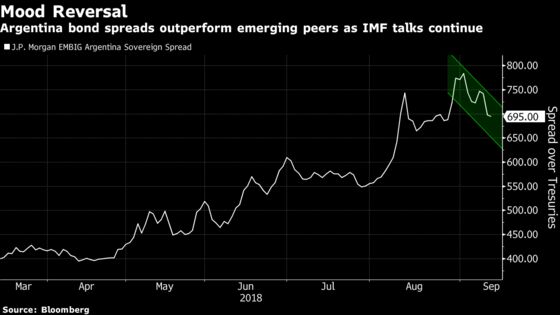 Spreads on Treasuries are down 102 basis points from a high of 784 basis points on Sept. 4, the day after President Mauricio Macri announced a slew of reforms, including the restoration of export taxes.
Macri's target of balancing the budget by next year and producing a surplus the year after is doable, granted there aren't any more external shocks, according to Alvaro Vivanco, BBVA's New York-based head of Latin America strategy. He sees Argentina's financing needs for 2019 and 2020 as "tight," even with the IMF's help.
The rebound in bonds may not last long. Institutional investors are exiting their positions and making way for hedge funds who want to take advantage of the risk, Vivanco said. Most investors still hold large positions in Argentina, leading to a lack of marginal buyers left to add Argentina to their position.
"The mood for emerging markets has improved thanks to Argentina's announcements, but the country's bond rally has a horizon of days rather than weeks or months," said Vivanco, who prefers the shorter part of the dollar curve, especially bonds due 2021 and 2022. "The market is still long Argentina and is looking at spikes as exit opportunities rather than entry opportunities."