Stable South Africa Outlook Means Slim Chance of Cut, Moody's Says
(Bloomberg) -- South Africa's stable ratings outlook means there's little chance of a change in its assessment soon, Moody's Investors Service said, adding that the country has to stabilize its debt to prevent a cut back to negative.
The ratings company's view on Africa's most-industrialized economy "hasn't changed drastically" since March, when it raised the outlook, Moody's Vice President Lucie Villa said at a conference in Johannesburg Thursday. Weak confidence will prevail until after next year's election, she said. South Africa has a "track record of shifting fiscal-deficit targets," Villa said.
President Cyril Ramaphosa's rise to power since December initially boosted sentiment and the rand following Zuma's tenure of almost nine years. That optimism faded as economic reforms weren't implemented quickly enough and global trade wars and turmoil in other emerging markets soured sentiment. Business confidence dropped to the lowest in a year last month and the rand is close to its weakest level in two years against the dollar.
"The progress of reforms will continue to be relatively slow," Villa said. "What we have seen is basically the government has tackled some of the things that will emerge."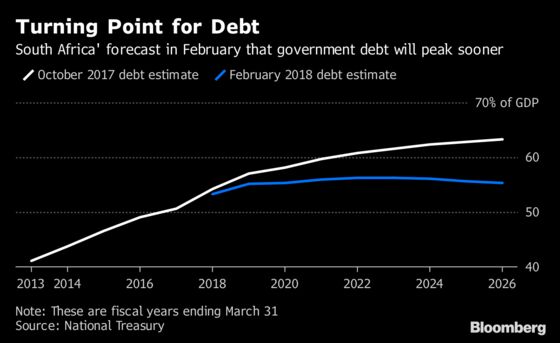 Ramaphosa will lead the ruling African National Congress in next year's national election as the party seeks to retain the majority it has held since the end of white-minority rule in 1994. Moody's is the only of three major ratings companies that still assesses South Africa's debt as investment grade. It's scheduled to publish an assessment Oct. 12
Moody's more than halved its forecast for South Africa's gross domestic product growth after news that the economy fell into a recession in the second quarter.
The government is likely to miss its budget-deficit target of 3.6 percent of GDP this year and the shortfall could be close to 4 percent, Villa said. Finance Minister Nhlanhla Nene who will present the mid-term budget to lawmakers on Oct. 24, said this week the slower-than-expected economic growth means the government may collect less revenue than forecast. Debt is likely to stabilize at around 55 percent of GDP, Nene said on Thursday.
Tax collection is performing "reasonably well" despite the adverse economic circumstances and the government's wage agreements won't put the expenditure ceiling at risk, he said.
News of the recession knocked the rand, with the currency extending losses to 15 percent against the dollar this year.
"Its very critical what announcement will be made in the medium-term budget," Villa said. "We are already embedding some fiscal adjustments but we need to know all the details. What's critical is the wage bill" and tax revenues.