Walmart's Jet.com Revamps Site to Narrow Focus on Urban Shoppers
(Bloomberg) -- Walmart Inc. has refurbished its Jet.com site to cater even more to the city dwellers who make up the bulk of its shoppers.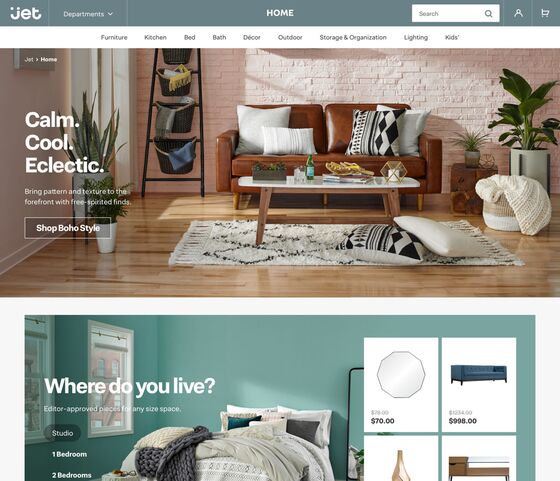 The e-commerce site, acquired by Walmart in 2016, will now offer images and products tailored to the location and preferences of the visitor, the retailer said Thursday. Most New York City residents can schedule three-hour delivery windows for groceries and other merchandise, and next month Jet will unveil a dedicated site for Nike and Converse products, which it will sell from its own inventory rather than through third parties.
"It's the next generation of shopping for city dwellers, and really brings the personality of their city and local favorites to life," said Marc Lore, Jet's founder and head of Walmart's U.S. e-commerce unit.
The changes, some of which were previously announced, follow a redesign of Walmart's primary website earlier this year. They illustrate how the retailer sees Jet as its vehicle to lure more free-spending urban shoppers, who typically eschew Walmart because of its down-market reputation. Walmart said in February that it would reduce Jet's marketing budget as it was cheaper to reach Walmart's traditional rural and suburban customers. Jet's traffic has declined as a result.
Jet's enhancements include recommendations for home furniture and decor based on the size of a shopper's apartment -- a studio, say, or a two-bedroom -- along with a greater assortment of upscale hometown brands, like artisanal breads from New York's Orwashers Bakery. The redesign also plays down Jet's purple color scheme to assign different colors to each main shopping category (grocery is green, fashion is black).
Jet is making a big play in the grocery space, where it will go up against entrenched online players like closely-held Fresh Direct and Royal Ahold Delhaize NV's Peapod unit in New York City, not to mention Target Corp. and local businesses like Fairway. The grocery service will let New Yorkers -- except those on Staten Island -- schedule same-day or next-day delivery for a $5.95 fee. A new fulfillment center that's opening in the Bronx this fall will improve and expand the offering.
The relaunch comes as Jet's traffic continues to erode. Monthly site visits declined 68 percent in August compared with the same period a year earlier, according to data tracker SimilarWeb. Jet's bounce rate -- the percentage of visitors who leave after viewing just one page -- also increased slightly over the same period.
To bring back shoppers who may have strayed, the online merchant will also unveil a marketing campaign with the tagline "Our Carts are Different Here." That could be a play on Lore's use of so-called Smart Carts when Jet debuted, which lowered the price of goods if shoppers were willing to bundle items together, use a debit card, or forego returning the item.