Mortgage-Backed Securities Traders Have Seen This Storm Before
(Bloomberg) -- Hurricane Florence is barreling toward the southeast coast of the U.S. and billions of dollars of commercial and residential properties tied to mortgage-backed securities. Traders aren't too worried.
That's because fewer mortgage-backed securities are in the landing zone compared with last year's devastating storms, which rattled markets but in the end didn't end up causing major losses or defaults.
Both residential and commercial mortgage-backed securities owned by private investors are exposed to the storm that's targeting the Carolinas, although the total is just a fraction of the massive markets. S&P Global Ratings pegs the number of CMBS loans in the path of Florence at more than $30 billion, out of a market of about $500 billion.
In part of the RMBS market without government backing, so-called credit risk transfers -- which were sold to investors by Fannie Mae and Freddie Mac -- about 4 percent of the nearly $45 billion market are exposed to the hurricane, according to Mark Fontanilla, whose company produces the only CRT index tracking returns.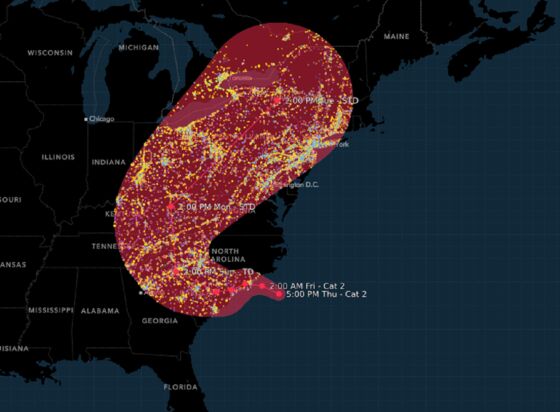 "We know these properties benefit from insurance, and we've got a historical track record of kind of surviving these natural disasters," Ed Reardon, head of securitization research at Deutsche Bank AG, said about commercial mortgage-backed securities. "[Hurricane] Harvey was probably the more punitive -- we had a lot of flooding there -- and we really haven't seen any defaults or losses coming out of that."
Most commercial mortgage products contain several levels of risk and are made up of loans spread across regions, helping to minimize the impact of defaults from localized disasters.
There are CMBS deals with pieces directly in the path of the storm. Chris Sullivan, chief investment officer at United Nations Federal Credit Union, said those with flood insurance have some protection. However, he added insurance may not be as prevalent inland or in places that previously seemed to have a lower risk of flooding.
"It will be in these areas that potential problems could arise for select properties within certain CMBS deals, though probably in low concentrations," Sullivan said. "The percentage of affected properties across deals is probably going to be relatively small. We could see a similar outcome to Harvey."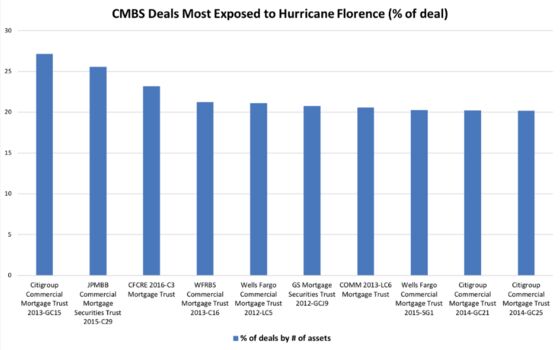 One risk is that tenants will use the storm as an excuse to get out of their leases, or that sales will suffer because of the weather, according to Mike Brotschol, senior director in CMBS Subscription at Kroll Bond Rating Agency.
"So as tenants are displaced from these properties, they may not return. And that's a downside that we have to consider," Brotschol said.
The storm surge and flooding from the hurricane is likely to cause widespread damage to homes in North and South Carolina, giving some people little reason or ability to pay mortgages. Most of these securities have the full guarantee of the government -- Fannie Mae and Freddie Mac -- but another product from the government-sponsored enterprises, known as credit risk transfer RMBS, is sold to private mortgage-bond investors and isn't guaranteed by the agencies.
Having learned lessons in the aftermath of last year's harsh hurricane season, investors in the credit risk transfer market are much calmer about their investments this year, said Neil Aggarwal, senior portfolio manager and head of trading at Semper Capital Management.
In the immediate aftermath of last summer's hurricanes, there was heavy trading of the instruments, with pieces of some deals dropping 10 percent to 20 percent in value. As more data spilled out from the disaster areas, prices quickly snapped back.
"Across all mortgage products, flooding is what causes business disruption, livable disruptions, or cash flow disruption. It's a risk, and investors are focused on it," Aggarwal said. "But we learned that market fundamentals withstood the hurricanes, and structurally, the embedded protections were enough to prevent any losses."
Further, he said, Fannie and Freddie offered accommodations for borrowers, so there shouldn't be as much volatility in the market this year.