Manafort Reportedly Near Plea Deal. Will He Turn on Trump?
(Bloomberg) -- Former Trump campaign chairman Paul Manafort tentatively agreed to plead guilty and avoid a second trial, ABC News reported, but it's unclear if such a deal includes cooperation with Special Counsel Robert Mueller.
A deal could be announced as soon as Friday in federal court in Washington, where Manafort is due to appear for a pretrial hearing at 11 a.m. Other news outlets, including CNN, reported that the two sides were close to a deal but hadn't yet reached one.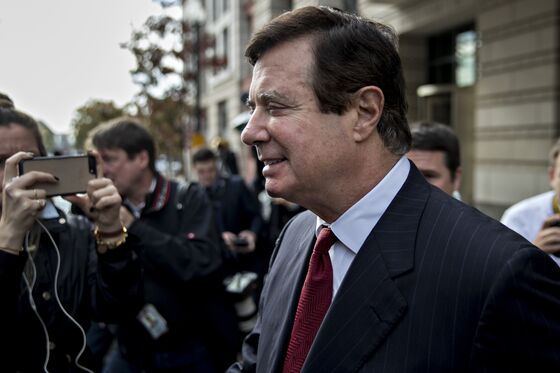 Manafort, an international political consultant, could either plead and cooperate or admit his crimes and not help Mueller. With ties to Russian and Ukrainian oligarchs, Manafort may be able to provide detailed information to Mueller, who is investigating Russian interference in the 2016 election.
Both Mueller and Manafort, 69, are trying to avoid a second trial after Manafort was convicted Aug. 21 in federal court in Alexandria, Virginia, of tax and bank fraud. Legal experts say Mueller wouldn't offer Manafort a cooperating plea deal unless he takes a bold step he's previously refused -- reveal everything he knows about Trump and others in exchange for leniency at sentencing.
"Manafort would have to be willing to completely cross that river and disclose everything that he's ever done, everything Donald Trump's ever done, and everything that everyone around him has ever done," said Elie Honig, a former federal prosecutor. "Not fully cooperating is a deal killer."
ABC previously reported that Manafort was resisting a plea deal that would include cooperating against Trump.
Peter Carr, a spokesman for Mueller, declined to comment. Jason Maloni, a spokesman for Manafort, didn't respond to a request for comment.
Should Manafort cooperate with Mueller's investigation, prosecutors could recommend a reduced prison term. Manafort will appear before U.S. District Judge Amy Berman Jackson Friday at a hearing initially scheduled for Wednesday. Although proceedings before Jackson weren't scheduled to start until 11 a.m. local time, by 8 a.m. journalists started lining up in the marble-walled hallway outside her courtroom.
Any sentence would be set by Jackson and the judge in Virginia, where Manafort faces 8 to 10 years.
But would Manafort turn on Trump?
The president thinks not. After Manafort's conviction, Trump tweeted he felt "very badly" for him. Even if Manafort pleads guilty, Trump could elect to pardon him.
More recently, Trump's attorney Rudy Giuliani told Politico: "There's no fear that Paul Manafort would cooperate against the president because there's nothing to cooperate about and we long ago evaluated him as an honorable man."
Legal experts say Mueller would never take a plea deal in which Manafort would cooperate against some people but not against Trump.
Prosecutors would extend a cooperation deal to Manafort only after debriefing him extensively and corroborating his information against multiple sources, said Daniel R. Alonso, a former federal prosecutor.
"The government has to be satisfied that the guy is truthful and his information is useful," Alonso said. "They have to come to a conclusion that he's being truthful. If not, there's no cooperation deal."
While Manafort could still cooperate, it would have been more likely before his trial in Virginia, which began July 31, said Randall Eliason, a former federal prosecutor.
"Of course he's tainted, but somebody who was at the heart of so much that went on -- you'd think he's got some pretty significant information," Eliason said.
Manafort joined Donald Trump Jr. and Trump's son-in-law, Jared Kushner, at a Trump Tower meeting in 2016 after a Kremlin-connected lawyer promised dirt on Democratic candidate Hillary Clinton.
Jury selection in the Washington trial is scheduled for Sept. 17, and opening statements are set for a week later. Manafort is accused in Washington of conspiring to launder money, acting as an unregistered foreign agent of Ukraine, and obstructing justice.
Manafort could also plead guilty to the indictment or a smaller set of charges and avoid the uncertainty of a jury. He could forgo legal fees that might extend into millions of dollars at trial. In pleading guilty, Manafort would have to make detailed admissions about his crimes.
"Prosecutors would get the certainty of a conviction, acknowledgment of Manafort's guilt, and save a lot of time and resources," Eliason said.
Manafort may or may not face a significant increase in his prison term by skipping a trial. A guilty plea could also affect the amount of property that prosecutors say he must forfeit.
"Even working out a non-cooperation plea deal can be a complicated process," Honig said. "What will he allocate to? What is his sentencing range? What assets will he forfeit? All of those things need to be worked out."
If Manafort pleads guilty and doesn't cooperate, prosecutors could decide to immunize him and seek his testimony in a grand jury after he's sentenced. That would allow Mueller to extract information from him about events he deems critical to the investigation -- a tactic that prosecutors have used in other white-collar investigations.
"If they have stuff they can pin him down on that's not just about his own crimes and he knows that, then he likely won't risk increasing his sentence for perjury and will give them what they want," said Sam Buell, a former federal prosecutor who's now a law professor at Duke University.