Kroger Gets Schooled by Walmart and Target
(Bloomberg Opinion) -- Walmart Inc. and Target Corp. gave Kroger Co. an extremely tough act to follow in the second quarter, as the big-box chains each delivered their best comparable sales growth in more than 10 years — in part powered by strength in their grocery aisles.
Kroger didn't rise to the occasion.
The supermarket giant reported on Thursday that its comparable sales rose 1.6 percent in the latest quarter over a year earlier. That's not bad, but it missed analysts' expectations. And it means the supermarket chain doesn't have an easy path to achieving its guidance on this measure for the full year, which is for growth of between 2 percent and 2.5 percent.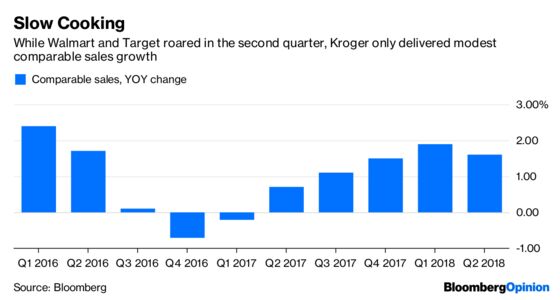 This report is a reminder that despite the flurry of intriguing press releases we've gotten from Kroger lately — It's piloting delivery via self-driving cars! Its products are on Alibaba's Tmall Global! —  it still has a long way to go before anyone should feel assured it is ready for a new era of selling groceries.  
Case in point: Digital sales in the quarter increased "over 50 percent" from a year earlier. That sounds good, until you consider that it is a significant deceleration. The company reported a 66 percent increase in digital sales in the first quarter; in fiscal 2017, digital sales grew "more than 90 percent."
That slowdown in online growth comes despite having expanded its partnership with Instacart to make delivery available to more households and adding more locations to its curbside pickup program. It seems like the simple fact that its offerings are available in more markets should be making it relatively easy to keep up its digital momentum.
E-commerce, of course, has become an extremely important battleground for grocers as more of our food dollars are expected to migrate to this channel. Kroger must do more to demonstrate it isn't going to be left in the dust by Amazon.com Inc., Walmart and Target.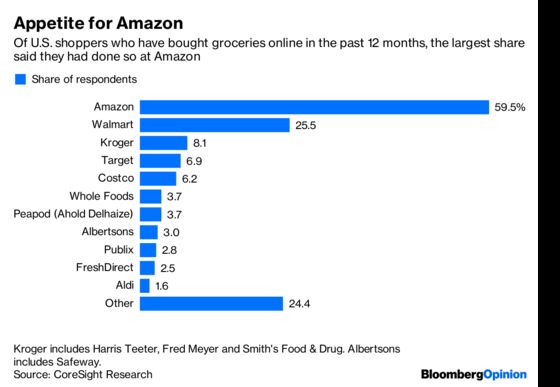 On top of that, the report revealed what a burden it is proving for Kroger to participate in the ongoing grocery price wars. The company said its adjusted gross margin decreased 36 basis points in the quarter from a year earlier, a decline it said reflected efforts to offer lower prices for consumers, along with other factors such as rising transportation costs.
Kroger is making the right call to make sure its prices are competitive. After all, Whole Foods Market is now offering routine discounts for Prime members, and at the value end of the business, the likes of Walmart, Aldi and Lidl are setting consumers' expectations for rock-bottom prices. But it leaves Kroger with tough questions to answer going forward about how much it can and should pull on this lever in pursuit of market share.
Executives were careful to note in the press release that they have only just begun implementing the three-year turnaround plan they laid out in 2017. And they said investors could expect to start seeing some benefit in the third quarter from their "space optimization" initiative, in which they are, on an individual store basis, rethinking exactly how much shelf space to devote to exactly which goods. So perhaps Kroger will be quick to restore some investor faith.
But with a retail environment as roaring as this one, it has to be viewed as discouraging that Kroger didn't have a better showing at the checkout counter.
This column does not necessarily reflect the opinion of the editorial board or Bloomberg LP and its owners.
Sarah Halzack is a Bloomberg Opinion columnist covering the consumer and retail industries. She was previously a national retail reporter for the Washington Post.