Italy Bonds Extend Drop as Auction Demand Dips Amid Budget Fears
(Bloomberg) -- Italian bonds declined for the third day amid reports that Finance Minister Giovanni Tria threatened to quit over the country's budget negotiations, and after an auction of government debt drew weaker demand.
The minister's offer to resign followed pressure from the Five Star movement over a proposal to fund a basic income for the poor, newspaper La Stampa reported Thursday, and comes as the nation risks a stand-off with the European Union over fiscal deficit rules. Tria's assurances that Italy would respect EU budget rules helped fuel a rally in the country's debt earlier in the month.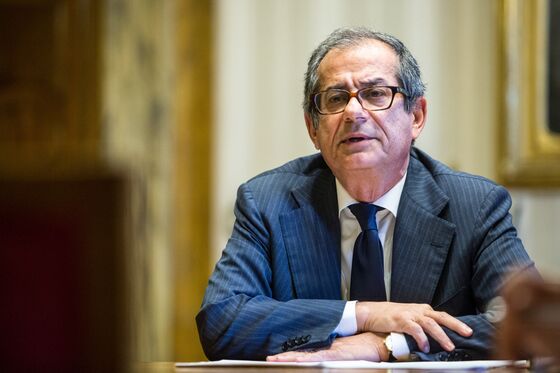 Bonds extended losses after Thursday's sale of seven-year debt received bids worth 1.28 times the offer size, down from 1.64 at the previous sale of similar-maturity securities. Offerings of three- and 30-year also saw a drop in the so-called bid-to-cover ratio.
"It all highlights the fragility of the current government and any promises made," ING Groep NV strategists including Martin van Vliet wrote in a note to clients, published before the auction, referring to the reports of political discord. "And it comes at a point where data suggests that Italy's economic soft patch possibly deepened over the summer, further straining the fiscal outlook."
A separate report on Wednesday had claimed that Five Star was seeking Tria's resignation if he didn't supply the funds for the basic income measure, but was subsequently denied. Investors are now likely to turn their focus to the European Central Bank's policy update as well as a sale of new Italian debt, both due later Thursday.
The yield on Italy's benchmark 10-year debt climbed five basis points to 3 percent, widening the spread over German bunds by as much to 2.59 percent. The rate on two-year securities was four basis points higher at 0.84 percent.