The Turkish Lira Is Facing Its Moment of Truth
(Bloomberg) -- Expectations ahead of the Turkish interest-rate decision could hardly be higher and policy makers have mostly themselves to thank for that.
The lira held near a two-week high on Thursday amid speculation that the central bank will follow through on a pledge of action and raise borrowing costs after inflation surged to a 15-year high. However, the heightened anticipation risks a bigger sell-off in Turkey's markets should officials disappoint markets, especially after they stunned investors at their last meeting in July when they unexpectedly kept policy on hold.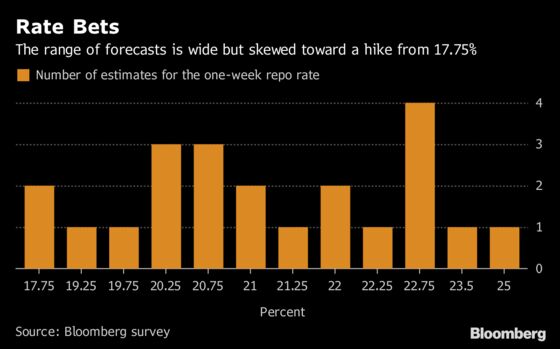 The central bank is forecast to increase its one-week repo rate by 325 basis points to 21 percent, according to the median estimate in a Bloomberg survey of economists, with predictions ranging from keeping policy unchanged to a hike of 725 basis points.
"The Turkish central bank can ill afford to create more uncertainty about its monetary policy," said Anders Faergemann, a money manager at PineBridge Investments in London. "A decision to leave interest rates unchanged could lead to another run on the Turkish lira."
The currency weakened 0.4 percent to 6.3673 per dollar as of 11:46 a.m. Istanbul time, after rallying to a high of 6.3319 on Wednesday, leaving the lira's decline this year at about 40 percent.
Here's what a selection of investors and strategists are saying ahead of the decision:
"Market expectation for a large CBRT rate hike this week is very high. The front end of the curve is now pricing in around 300 basis points of a hike. This is the largest expectation for one MPC meeting in Turkey for quite some time," said Paul Greer, a money manager
"Given Turkey's long history of underdelivering on expectations at CBRT meetings, and the recent clean-up in short-term USD/TRY FX positioning over the past week, the risk is to the downside for Turkish markets"
"If the CBRT underdelivers, expect pressure to resume on the lira and lira bonds"
Faergemann said the central bank would have to create a significant risk premium beyond the current level of nominal interest rates in order to stabilize the market, taking into account runaway inflation expectations
"In our analysis, nominal interest rates would have to be lifted 300 basis points to 500 basis points above the market's inflation expectations for next year i.e. closer to 28 percent to 30 percent"
"Turkey needs a combination of factors to come right before foreign investors will step back into this market; raising real rates far above current levels, tighten fiscal policy and resolve the Brunson case with the U.S."
"We are approaching another high-stakes MPC meeting and there seems to be little question about the outcome that would satisfy the markets and restore monetary policy credibility," said Inan Demir, an emerging-markets economist
A rate hike Thursday should "at least" compensate for the acceleration in inflation since the last formal hike on June 7, which would mean a 575-basis-point increase to the one-week repo rate
However, "we do not have a high conviction that this is forthcoming. What is more likely is a 200-basis-point to 250-basis-point hike in the average funding cost with uncertainty around the exact combination of policy rates to deliver this tightening"
Also sees the possibility of officials introducing new liquidity management tools that would give the central bank "greater influence on market interest rates beyond the very short term"
While policy makers will probably increase rates Thursday, "they will disappoint as usual," said Cristian Maggio, head of emerging-market strategy. "It's one of these cases where you keep seeing the same mistake made again and again"
"If the CBRT manages to surprise positively, the lira can breathe a sigh of relief for now," and the currency could appreciate to around 6.00-6.25 per dollar if the weighted cost of funding is raised by 275 basis points
"The central bank will again disappoint the markets. They will indeed hike rates but only to address higher inflation and not to tackle the sharp currency depreciation," according to emerging-market economist Nora Neuteboom, who expects a 250-basis-point hike
Economist Ercan Erguzel said he expects the central bank to raise the one-week repo rate by 425 basis points to 22 percent, which corresponds to a 275-basis-point increase to the weighted cost of funding
"As price and financial stability concerns remain high, we would expect the CBRT to prefer to be on the conservative side and tighten its policy rate further"
Sees inflation peaking at 27 percent assuming the lira remains stable around 6.40 per dollar and expects the central bank to deliver another 125-basis-point hike in the fourth quarter
Emerging-market strategist Phoenix Kalen says the effective funding rate should be raised to 24 percent, but only expects a 300-basis-point hike in the one-week repo rate to 20.75 percent
"Although this amount of monetary tightening may disappoint market expectations and spark renewed TRY weakness, the decision would reflect the prioritization of Turkish authorities' concerns regarding a rapidly decelerating economy"